Ever thought about owning a pet and not sure yet. Well, we got the next best thing for you. We present Clementine from Ashton Drake, a reborn monkey doll. The monkey is an adorable reborn doll looking for some cuddles. So if you are not sure you want to get a pet or just looking for a fun pet-like doll to share your time with, then Clementine is ready to be your friends. She is so life-like that it would be impossible to not see her as a real monkey. She possesses cute brown eyes with long lashes, her weight is carefully curated for cuddling and she is poseable.
What's in the box?
Reborn Monkey Doll *1
Onsie*1
Pacifier*1
You may also want to know
Doll Gender: Girl
Eye Colour: Brown
Size: 14″
Material: RealTouch vinyl
Rating: 4.3 out of 5
Ages 14 and above
All "Clementine Needs A Cuddle" Baby Monkey Doll wants is love from you and it is written all over her eyes. She's a charmer, a baby monkey doll by award-winning Master Doll Artist Linda Murray, exclusively from The Ashton-Drake Galleries. She is made from RealTouch vinyl that's soft to the touch, and hand-painted from her tender expression down to her tiny, wrinkled feet. Her big brown eyes are so enchanting.
This precious monkey doll has a soft scent of baby powder and even comes with a pacifier for extra cuteness. She has soft curls hair and long lashes. She'll arrive in a soft scent of baby powder wearing a lovely knitted romper and a pacifier adding to her adorable innocent look.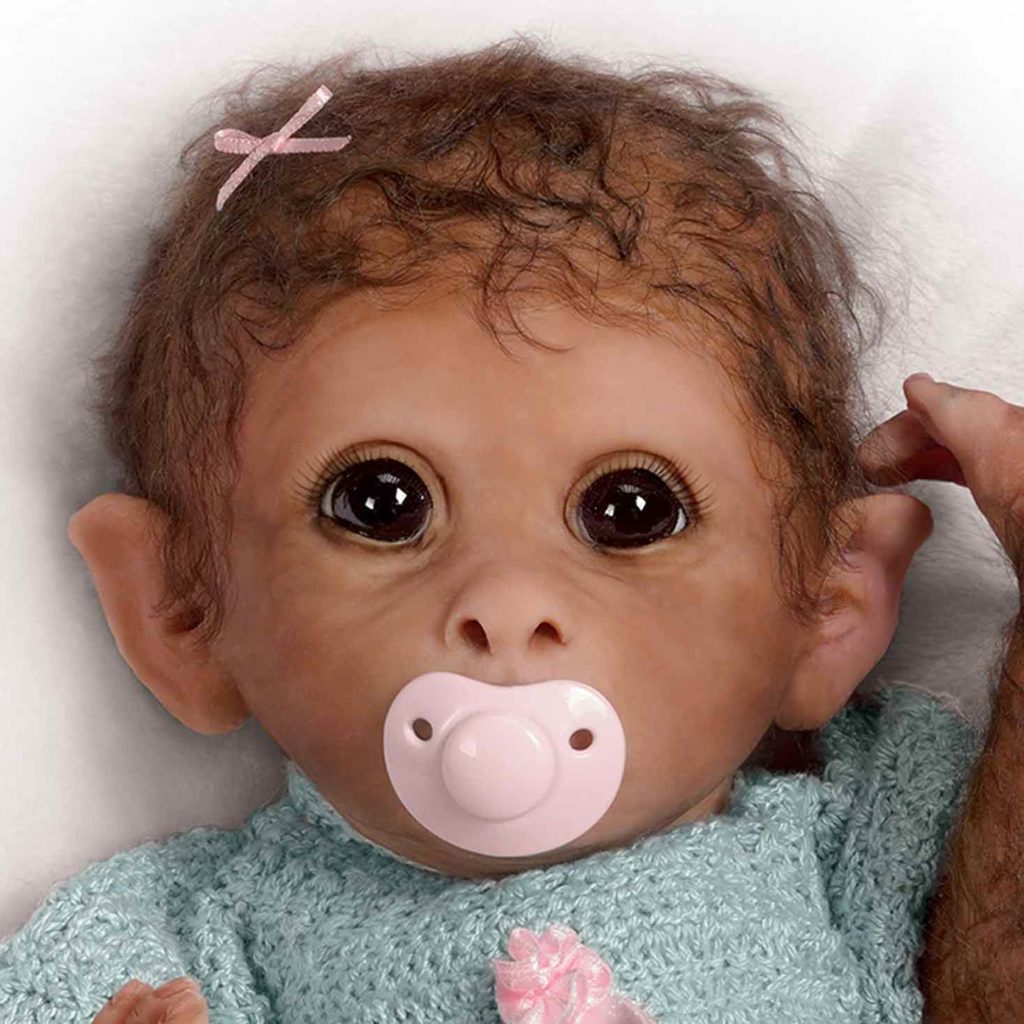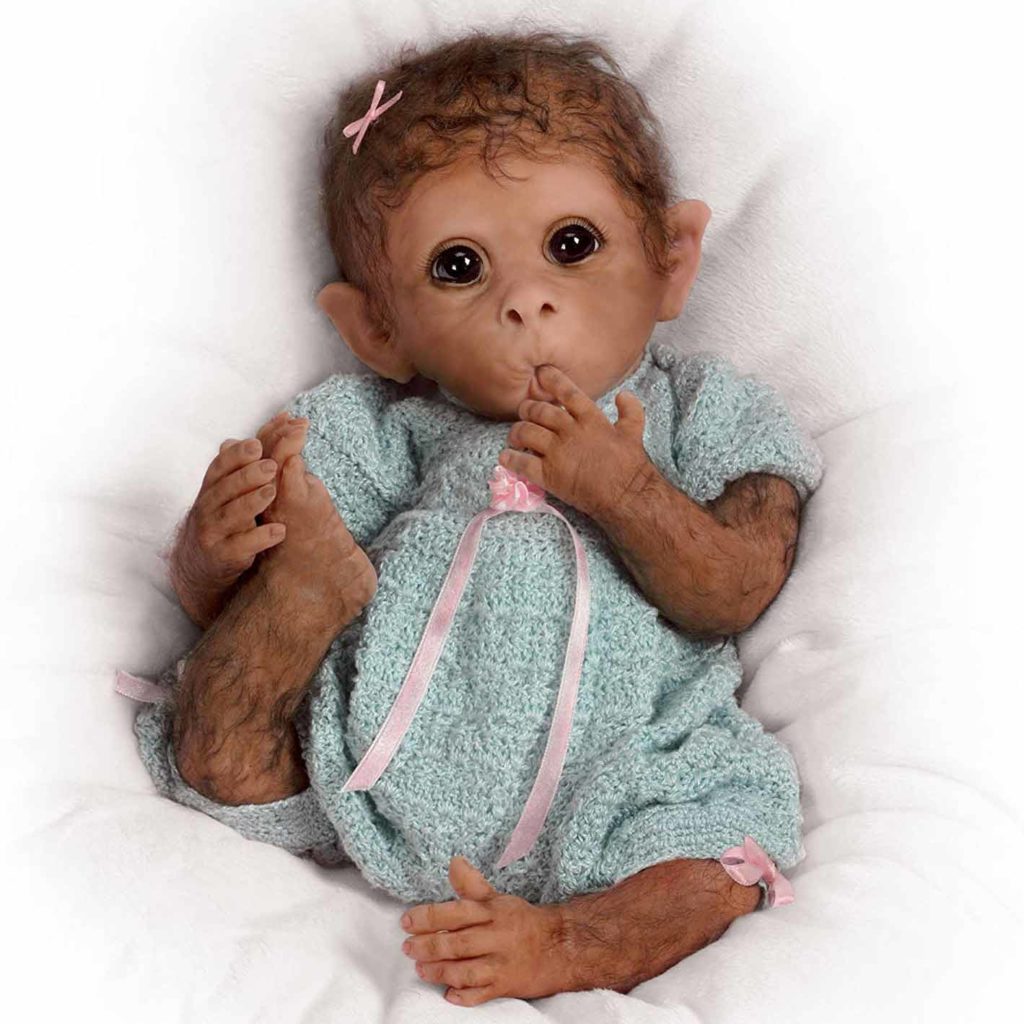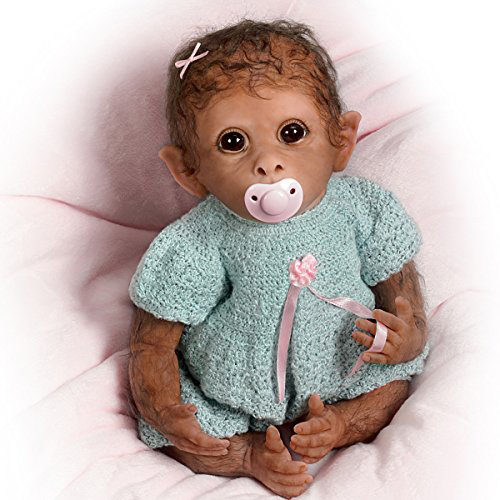 Made With Real Touch Vinyl
Clementine The Baby Monkey Doll RealTouch vinyl skin is a thing of beauty. As a result, she is soft to touch and she has wrinkled feet making her feel like a real monkey.
Clementine measures 14″ from head to toe. Sometimes, people view dolls as just toys, but this is far from the truth. However, it is both a toy and a real priced collectible. It is an ideal item for people ages 14 and above.
This reborn monkey doll is the perfect gift for birthdays or anniversaries.
Pros
Poseable
Hand-painted details
Comes with a pacifier
RealTouch vinyl
Cons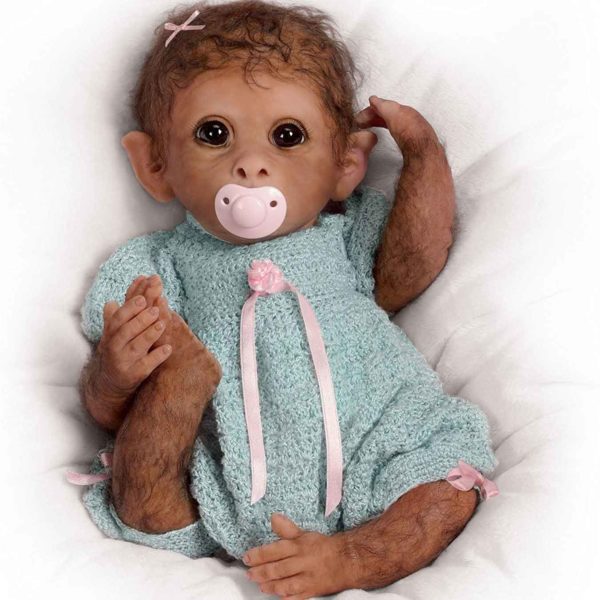 "Clementine Needs A Cuddle" Baby Monkey Doll is fun to carry and her big soft curly brown hair feels so real. It does make her appear like the monkey that you have always wanted.
She's definitely worth your money and is a good purchase. Clementine is one of those exclusive reborn dolls that will fit into a set or collection of a reborn doll animal set. Likewise, she is the perfect pet doll playmate you can buy. So, get her today and you can warm each other hearts forever.