Reborn baby dolls are a revolutionary product that can be used by people of all ages. This high-quality, life-like toy has gained popularity among children and adults in a matter of no time. Since these reborn baby dolls are popular for their realistic features, the more life-like a doll looks, the better it is considered.
This is exactly what the Kaydora Reborn Baby Doll Girl Lucy 22″, is famous for. This one of a kind reborn doll comes with amazing features such as a pair of vibrant, bright baby blue eyes that are adorned with smooth eyelashes. The eyelash hair is shiny and the strands look very realistic.
What's in the box?
Reborn doll*1
Suit*1
Pacifier*1
Feeding bottle*1
Diaper*1
Birth certificate*1
Gift box*1
You may also want to know
Manufacturer: Kaydora
Artist:  Michelle Henley
Doll Gender: Girl Doll
Eye Color: Blue
Size: 20″
Material: High quality PP cotton cloth
Ratings: 4.4 out of 5
Ages 3 and above
Since we are talking about hair, the Kaydora Reborn Doll has a lustrous wig full of silky, shiny hair that is the closest thing available to human hair. This hair is of the finest quality and it is very easy to take care of. This means you can easily wash, shampoo, and condition the doll's hair to get the best results. The hair is also very easy to style and handle.
The Kaydora Reborn Doll also comes with very realistic limbs which include ¾ movable vinyl legs and arms that have been hand-painted to give the doll a very real look. The same painting has been done on the hands and feet of the doll to give it tiny wrinkles that only add to the life-like appeal of the doll. The arms and legs are movable and this feature allows the doll to be able to sit and stand in different postures.
The Kaydora Reborn Doll has a size of twenty-two inches, the skin of the doll is very soft to give it the texture of actual baby skin. These reborn baby girls are also adorned with super soft and cute clothes that a baby would wear. These clothes are made from the softest cotton that is usually worn by babies from the age of zero to three months.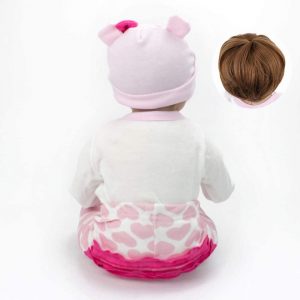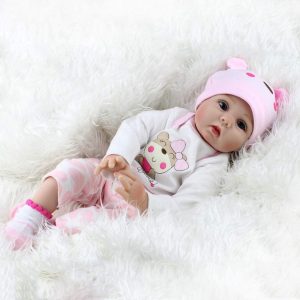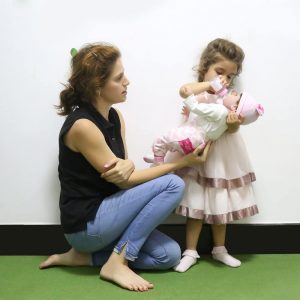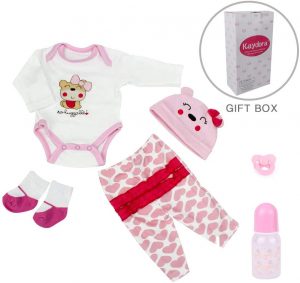 LIFELIKE: The girl has hand set blue eyes & eyelashes and realistic wig hair, hand-painted details, wrinkled little fingers,3/4 movable vinyl arms, and legs allow you to sit her in many poses.
SIZE: 22 inches from head to toe, with soft cotton cloth weighted body for a real baby feel, newborn(0-3 months) clothes suit for her.
APPLICATION: Birthday present, Christmas gift, Preschool activity, Home activity, Role play, Nurturing play, Doll collection.
SAFETY: Conform to or exceed the safety requirements of ASTM F963 and EN71 for ages 3+, which is safe to your children.
Pros:
The Kaydora Reborn Doll has the following advantages:
Safe to use by young children and adults.
Easy to Use.
Realistic, life-like features such as baby skin, moveable hands, arms, legs and realistic hair.
Comes with numerous accessories.
The perfect gift for any special occasion.
Available with good packaging.
Easy to carry around.
Comes at a very reasonable price.
Cons:
This baby is cute but the body is not very soft. That is one of the critical reviews from customers.
You'd think that such an amazing doll with all these high-quality features must cost and arm and leg. In that case, you're in for a surprise. The Kaydora Reborn Doll is available in all its glory at a very reasonable price.