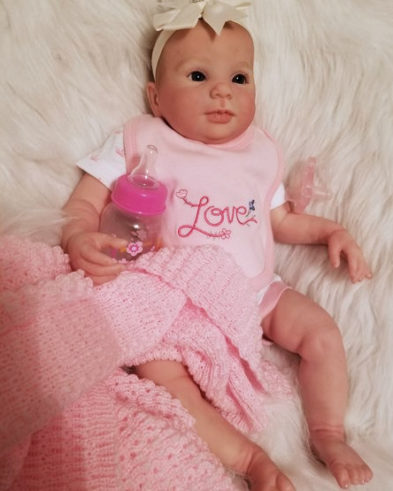 Artist: CherishNComfort
Size: 19″ (Weight: 5 Pounds)
Material: Vinyl
Eye Color: Green
Just like the name suggests, this doll is just like a queen of reborn dolls.
The 19'' Elizabeth doesn't fail to make you adore her, with her cute eyes as well as pink outfit! The baby doll doesn't weigh much, and she can be easily posed in different ways. Her cloth body feels very soft, just like a batch of cotton flowers!
Apart from that, all the hand-painted details provide a finesse to this doll. She comes with her pacifier, baby bottle, onesie and other accessories!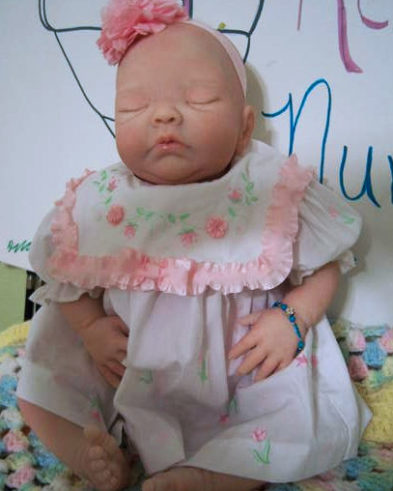 Artist: Pittypats Reborn Nursery
Size: 20″ (Weight: 5.19 Pounds)
Material: Vinyl
She is looking forward to a lot of love, hugs and admiration from you! She is light, attractive and very much pleasing to the eye.
She is made up of the best quality vinyl and she looks real, just like a small baby. Her small details, i.e. hand-rooted eyelashes, have been created with a lot of precision.
She comes wearing a beautiful pink and white dress with bloomers.
Definitely, you will love this doll and her cuteness.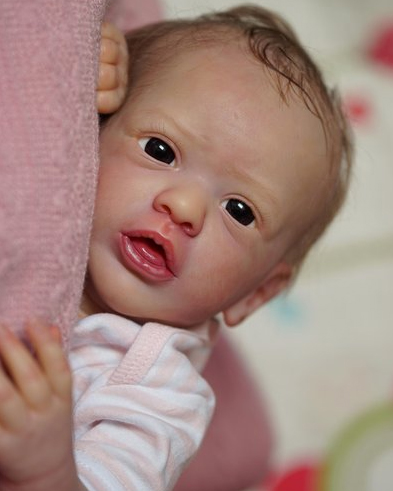 Artist: Vicky Kormos
Size: 20″ (Weight: 5.1 Pounds)
Material: Vinyl
Eye Color: Deep Blue
Hair Color: Chocolate Brown
20 inches long Aleyna, is too cute for being a lifeless doll.
She appears like a real baby with all the life like details – veins, creases, fingers, and toe nails, newborn mottling and fine baby hair on her face and forehead. She is painted with Genesis Heat set Paint, which makes her look very pretty.
She is poseable, and her light weight further adds to the bucket of positives related to her.
She comes home with three nice outfits of hers, reborn certificate, a magnetic pacifier and some extras with a beautiful box opening.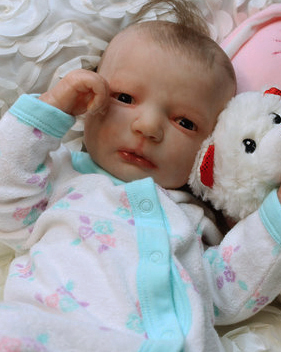 Artist: Little Light of Mine Rebo

Size: 19″ (Weight: 5 Pounds)

Material: Vinyl

Eye Color: Brown

Hair Color: Brown
Jennie is of an ideal size, 19 inches, which is quite soothing to the sight. She is a little bit floppy, not stiff and weighted to feel like a real baby in your arms.
She has been painted with many layers of Genesis heat set paints, and has real-looking 'skin'. Her brown eyes will certainly attract you and her hand rooted eye lashes are also inviting.
She arrives home with two diapers, one onesie, one sleeper, one headband, one magnetic pacifier and Little Light of Mine Packet.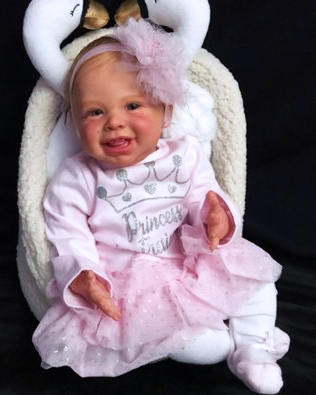 Artist: Josefina Morales Medina
Size: 19″ (Weight: Over 5 Pounds)
Material: Vinyl
Eye Color: Blond
Hair Color: Green
Harper is also a nice option to look forward to.
She looks surreal, with all the details which have been hand painted by the artist, including veins, capillaries, shading and mottling. Her green coloured eyes are very attractive and she has been painted with GHSP in many layers of translucent washes to achieve a dimensional depth.
Everything about the doll, such as her fingers, toes, eyes, nails, etc., looks real. Even her clothes are nice and therefore, this is one of the great options to consider.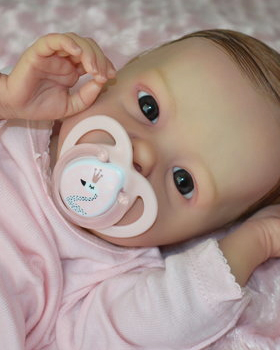 Artist: Celena Arce
Size: 18″ (Weight: 3 Pounds)
Material: Vinyl
Eye Color: Grayish Blue
Hair Color: Light Golden Brown
Tink is 18 inches long, and she has a doe suede body filled with polyfil and glass beads. Her light golden brown hair and glass grayish blue eyes make her look so real and innocent.
she arrives with three cute handmade outfits. Apart from that, there are a lot of accessories coming with her, such as a fleece blanket, headbands, a set of brush and comb, a magnetic pacifier and diapers.
The doll is made with good quality materials and therefore, she is also one of the best reborn babies you can have.
Artist: Wee Wonders Nursery
Size: 18″
Material: Cloth Body with Vinyl Limbs
Hair Color: Brown
Luxe with her eyes closed and bright pink outfit, is appealing enough for you to spend some bucks over her purchase.
Her eyes, lips, nails and corners have all been glossed, and subtle details are crafted, including veining, shading, and mottling, which make her appear more lifelike. She has a cloth body with vinyl limbs and hand drawn details like eyelashes and eyebrows.
She comes in a Carter's outfit, along with her socks, pacifier, diapers, blanket and birth certificate.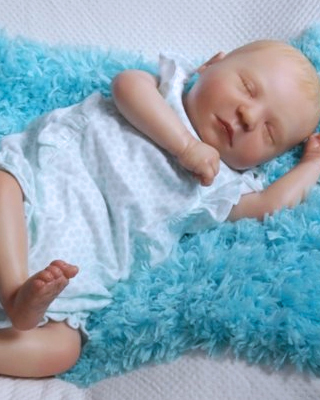 Artist: Léabelle Reborns Nurserie
Size: 19″ (Weight: 5 Pounds)
Material: Vinyl
Hair Color: Blond
This beautiful little girl is just waiting for you to cuddle!
Marissa is 19 inches tall, and she is painted with multiple thin layers of Ultimate Fusion air dry paint, which is resistant. The details of her face as well as other features is also evident on the outside.
She has a lot of handcrafted features, and 3D effects, like her blond painted hair and rooted eyelashes, which give her a touch of realness.
She comes with her hat, blanket, a gorgeous outfit and other accessories.
Give her a sweet home!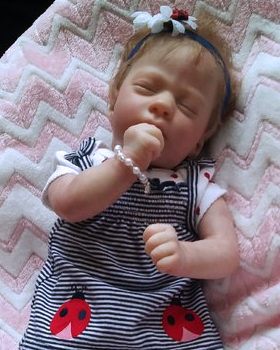 Artist: Carol Lance
Size: 16.5″ (Weight: 3.16 Pounds)
Material: Vinyl
Hair Color: Brown
As the name suggests, Ashley Asleep is a sleeping beauty which wins the heart quite easily, with her cute face.
She weighs around 3 pounds, which is not really much to handle. She was made with meticulous attention to details. She has precisely painted features requiring many thin layers of air dry paint to achieve depth and realism, including tiny fingernails and toenails. Her fawn brown hair and eyelashes make her even more cute and adorable.
She is made up of premium quality vinyl, and therefore all the safety measures have been taken into consideration.
She comes with her blanket, surprise outfit, pacifier, hairbrush and conditioner, certificate of authenticity, and certificate of reborning.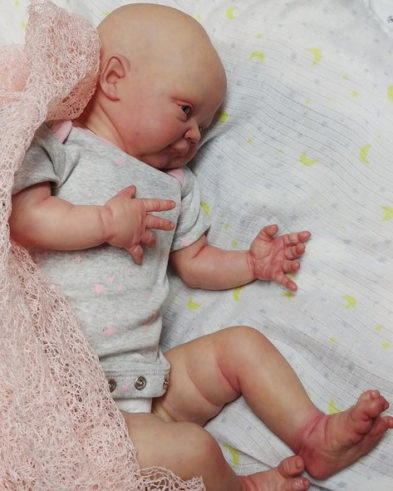 Artist: E-Borns
Size: 19″ (Weight: 4.5 Pounds)
Material: Vinyl
Eye Color: Gray
Natalie has a different level of cuteness associated with her. It's clearly visible on her face. Her big gray eyes are appealing and gripping for the viewers.
She has subtle natural color sealed nails, light mottling, subtle veining, and 3D textured skin. She has been varnished with a great combination of Matte Varnish, Satin Varnish and Soft Touch Varnish.
She comes with a certificate of authenticity and safety and care instructions. Therefore, that shouldn't worry you.
Quite surely, you would love her company.