Playtime is a serious matter when it comes to your child's development and playing with dolls is a creative activity that helps children to interact with other kids. Wouldn't it be a delightful feeling when you see your kids having fun? Adora ToddlerTime Doll Daisy Delight is the perfect doll to get for your kids. Daisy Delight is a beautiful doll which is lovingly crafted from the finest vinyl. This life-like baby girl doll will be your child's favourite and make delightful memories with your child. From having tea time to going to the park for a play date, Daisy doll is a great companion for kids. It is natural for children to ascribe needs, personalities, stories to their dolls which is why Adora Dolls are the best choice because they are designed to give your child an adventurous and delightful childhood.
What's in the box?
Reborn Doll *1
Outfit*1
Diaper*1
You may also want to know
Doll Gender: Girl Doll
Eye Color: Blue
Hair Color: Brown
Size: 20 Inches ( Weight: 2.2 Pounds)
Material: CuddleMe Vinyl
Rating: 4.7 out of 5
Ages 6 and up
ToddlerTime Doll Daisy Delight is a complete beautiful doll. She has red hair adorned with white and red polka-dot hair ribbon. It makes her hair look as cute as that of a little girl. Her patiently hand-applied eyelashes bring out her blue eyes which match her fair skin tone. The 20″ tall baby doll which smells of fresh baby powder scent is outfitted in a beautiful gingham dress adorned with multicoloured daisy designs and red and white polka-dots bows paired with footwear. Her weighted body is realistic with the way her moveable body is brilliantly made of 3/4 vinyl (your child will able to swing the doll's arms with ease and hug her Daisy all day). So as to encourage the development of nurturing social skills, each of the dolls wears a diaper that mimics that of a real baby.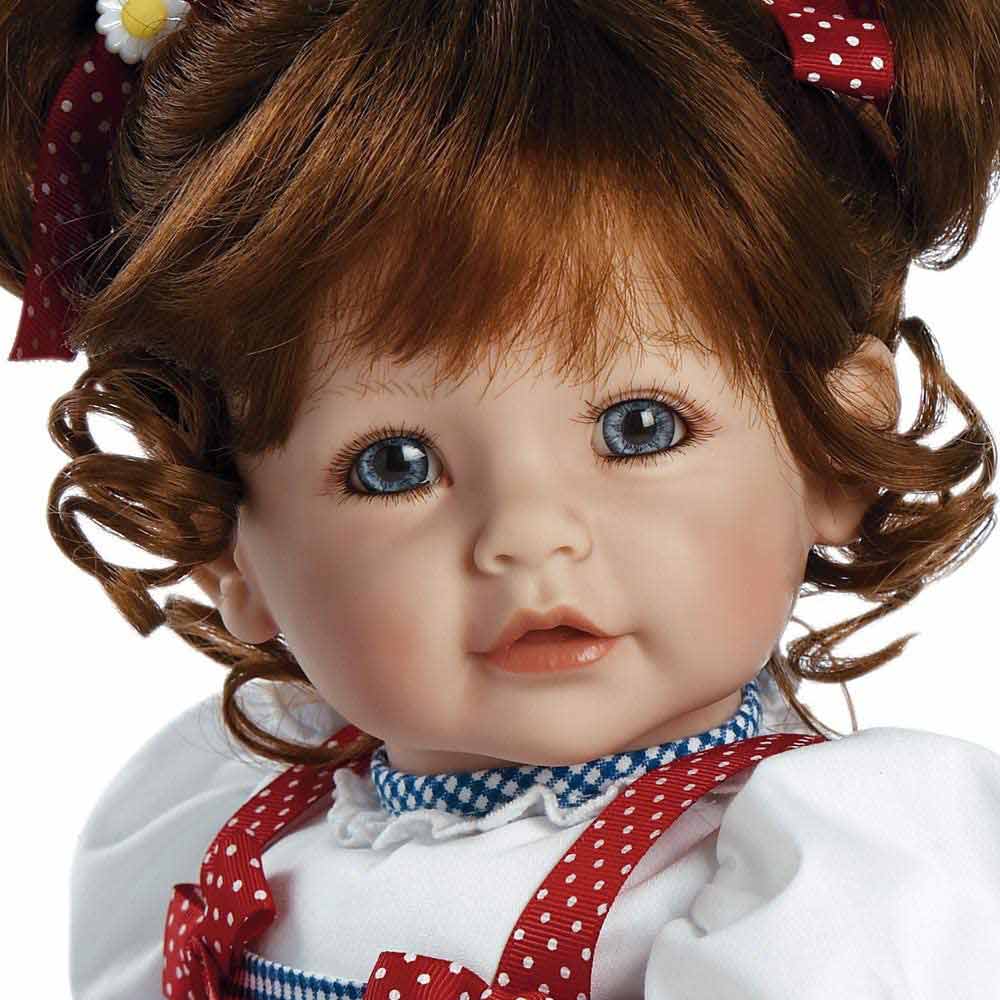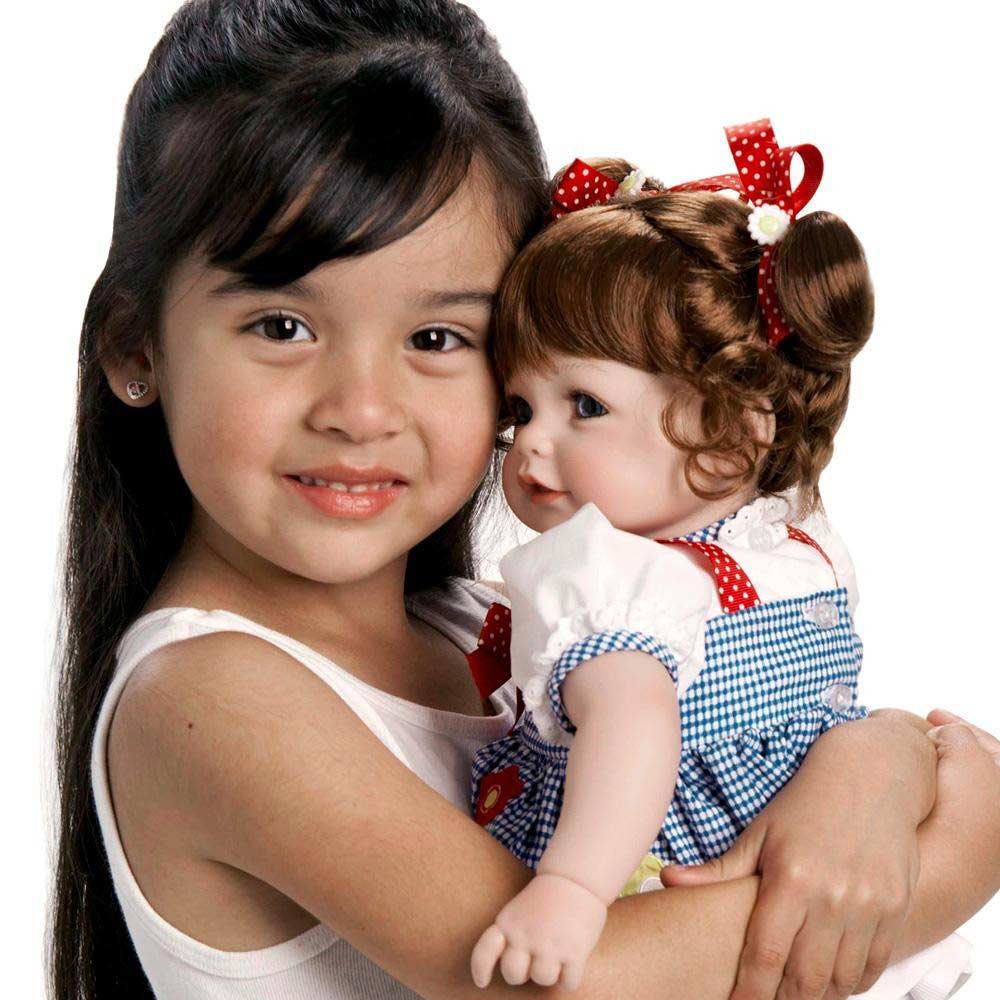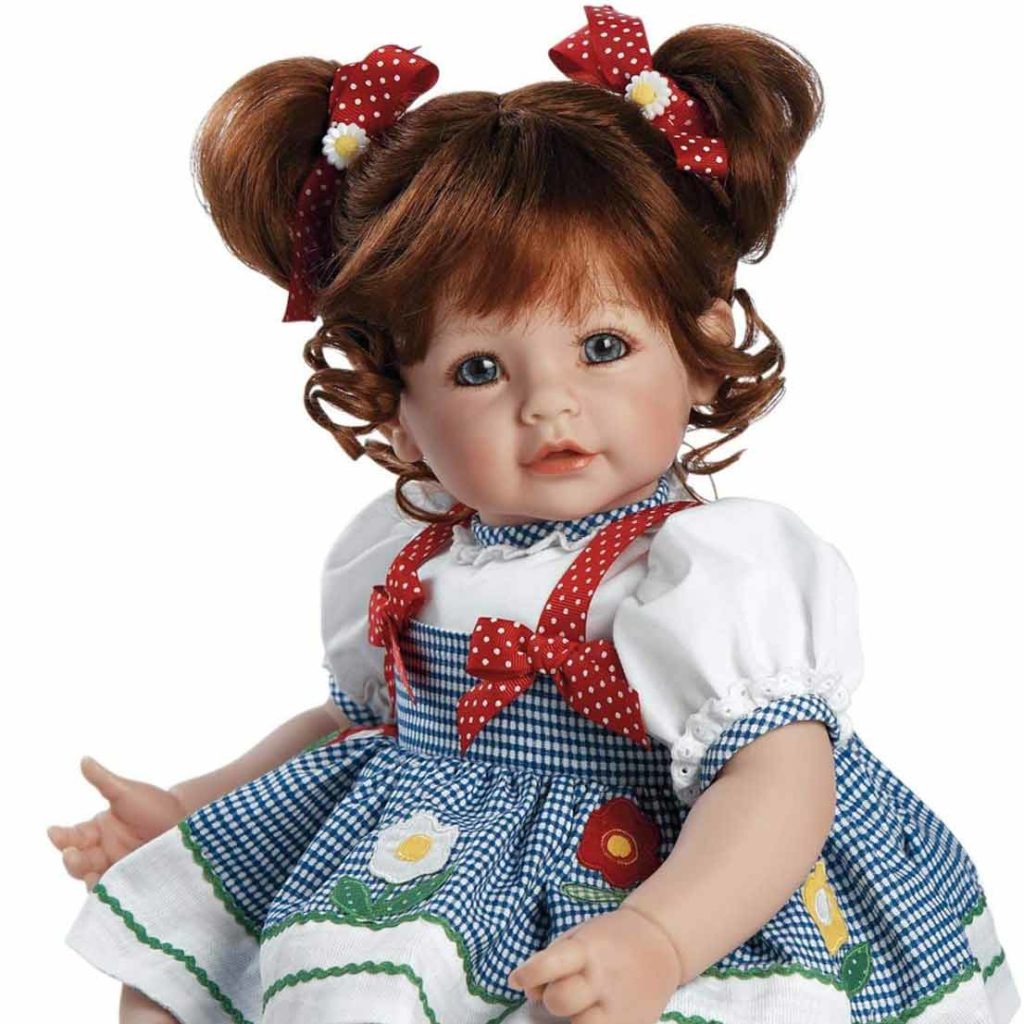 Made from Vinyl of the Best Quality
Adora ToddlerTime Doll Daisy Delight is made from the best vinyl of the highest quality. This birthed the lifelike doll and it is durable and very easy to maintain. Your kids deserve the best, that is why we use top-notch quality fashions to outfit each and every one of our Adora dolls. With this, your children get a comfortable feeling as they get soft and warm hugs from the beautiful daisy, their favourite doll.
Yes! The 20″ ToddlerTime Doll is the perfect size for a play companion. She is so easy to carry around anywhere. Her weighted body gives her the perfect size to cuddle and move into different poses. You want her to sit for a tea party? Yes, she can.
The lifelike doll is prettily placed in a box ready to be unboxed by happy little kids because Daisy Delight wants each kid to be happy and delightful. ToddlerTime Dolls Daisy Delight can be wrapped prettily and be gifted as a birthday present, holiday gift and even just to add to your toddler's collection of Adora dolls.
Pros
Soft and huggable
Poseable (great for pictures)
Soft hair which can be styled
Fresh baby powder scent
High-quality vinyl
Removable clothing
Durable
Cons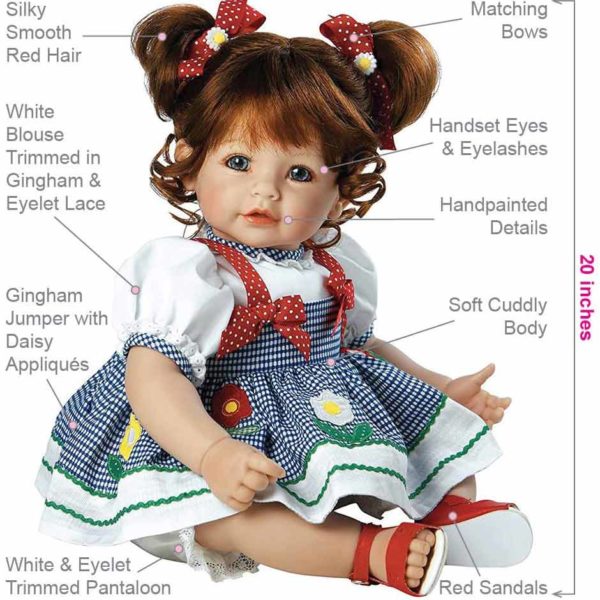 We want your children to be the envy of their peers as they walk into the park with their very own beautiful Daisy Delight doll. Daisy doll will be a park sensation and would make other kids in the park fall in love with her as she charms everyone with her ADORAble smile. Your kid will love to play dress up and have imaginary conversations with her Daisy doll and she is ready to give your kid all her undivided attention.
Adora Toddler Daisy Delight is a dream come true for your child and giving your child a Daisy Delight doll is going to help nurture your kid's empathy and relating abilities.
Don't refuse your child a delightful friend and play-mate, Daisy doll will be delighted to keep your toddlers busy with play dates, tea time, conversations, a hug buddy, and a warm sleeping partner.