The reborn doll brand Kaydora works hard to provide the safest, high quality dolls for all consumers. The Kaydora Reborn Baby Doll 22″ Lifelike Baby Reborn Toddler Girl Nana, has been created by an artist from New York and this reborn doll is widely known by its name, Nana.
The Kaydora Nana baby doll is very famous among both children and adults. While children love to play with a lifelike doll, adults have fun in collecting dolls or using them to prepare of maternity or get rid of any impending loneliness. Kaydora takes full responsibility of all the materials used to make these reborn toddlers and assures that they are safe for use. The following is a reborn doll review of Nana.
Features of Kaydora reborn toddler girl Nana
What's in the box?
Reborn toddler girl Nana with clothes*1
Pacifier *1
Bottle *1
Plush Gariffe *1
Birth certificate *1
You may want to know
Size: 22 inches/55cm, from head to toe
Weight: Approx.1.3kg/3lb
Brand: Kaydora
Material: Head&Arms&Legs: Silicone; Body: soft cotton cloth
Eyes: hand-applied brown acrylic eyes
Hair: Soft hand-applied realistic hair
For ages 3+
Description of Kaydora reborn toddler girl Nana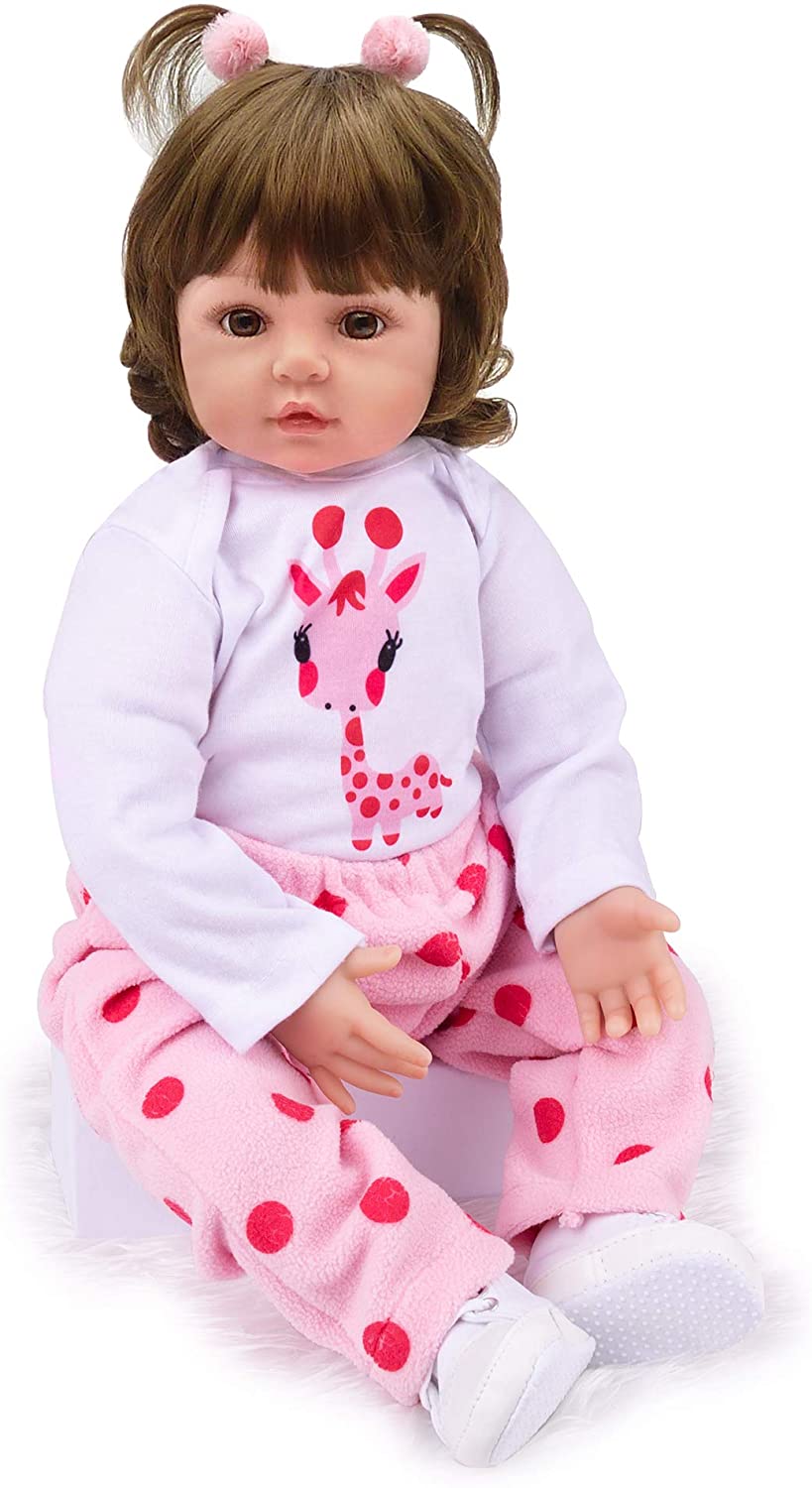 The Nana doll is twenty-two inches in height and its weight is similar to that of a newly born child. This reborn toddler has very soft and supple skin that resembles a baby's skin. It has beautiful rose-colored cheeks and soft brown hair that are easy to wash and style. The Nana doll also has very realistically painted hands and limbs.
The doll has exquisite, lifelike eyelashes that cover its eyes. This doll has movable arms and limbs and you can place it in any way or pose that you like. The main feature of this doll is its porcelain-like face with a cute button nose, large wide brown eyes and pink lips.
This doll makes a great gift for holidays and birthdays. The doll helps in the development and growth of little children. Due to the realistic look of the doll, it makes children feel as if they are playing with a real friend and it helps enhance their social and mental development. The doll has been made from silicone and it can only be cleaned using a damp cloth.
The Nana reborn doll comes with a list of additional accessories which include soft cotton clothes, one feeding bottle of milk, one pacifier that it's perfectly into the mouth, one plush toy giraffe, and one birth certificate. And you heard it right, your toy comes with its own toy! Talk about paying attention to detail.
Pros & Cons of Kaydora reborn toddler girl Nana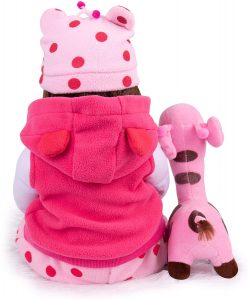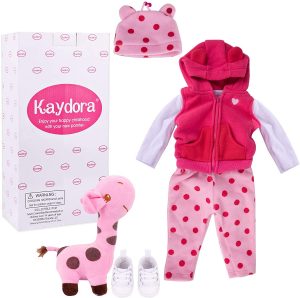 Pros:
The following features of the Nana doll make it truly stand out of the crowd:
This doll comes in a twenty-two inches size and it makes it easy to carry by both children and adults.
It has a weight of around 1.3 kg to three pounds. Conforms or exceeds the safety requirements of ASTM F963 and EN71 for ages 3+, which is safe for your children.
The doll is made from the finest silicone and it is wearing clothes made from cotton of the greatest quality.
Since the nana doll is made from silicone, it should be cleaned very carefully, using a damp cloth.
The doll has beautiful brown eyes that have been made from acrylic.
The doll has soft and smooth brown colored hair that can be shampooed and styled according to choice.
The packaging of the doll is really good and it is good enough to be gifted and it also comes with various accessories. It is great for a birthday present, Christmas gift, preschool activity, home activity, role play, nurturing play. Your kid will acquire the social ability and strong cognitive ability.
Cons:
She cannot close her eyes.