Stunning reborn dolls for kids, is actually a nice idea to give some thought.
A large number of splendid, eye-espying reborn dolls are present out there in the market. But no one matches the quality of Paradise Galleries Finn & Sparky Baby Doll. The cute looking doll is attractive enough to spend time with your baby, and you need not to worry about the company. Both of them will enjoy and have a ball, together!
What's in the box?
Baby Boy Doll *1
Fleece Sleeper*1
Plush Puppy Sparky
Baby Carrier*1
Hat*1
Bib*1
Diaper*1
Bottle*1
You may also want to know
Doll Gender: Boy Doll
Eye Color: Brown
Hair Color: Brown
Size: 17 inches ( Weight: 1.43 pounds)
Material: 1/4 Vinyl Arms and 1/4 Vinyl Legs
Rating: 4.6 out of 5
Safety-tested for Your Reborn Collectors Age 3+
The baby boy doll, doesn't come alone in the box. You will also get a hat, plush toy, diaper, bottle, bib, baby carrier and other exciting stuff, which will allow your baby to frolic with this amazing baby boy doll.
The 17'" long baby doll, doesn't fail to shine with its charming eyes which are coloured in brown. Not only the eyes, but even its hair is coloured in brown.
Its cloth body feels just like a real baby under the fingers, and it feels soft as if holding one's own baby.
All the minute details have been handcrafted, and therefore, the art doesn't get dull anywhere! The doll has been created by the maker, as if he was doing it for his own baby!
Along with the tiny toddler, we also get his dog Sparky, inside the package.
While adding all the beautiful features, the doll gets a high rating of 4.6/5.
All this, would have surely made your fingers press the order button, for getting this small yet alluring little package.
But not before, you know everything about it.
The sweet, little baby boy adorned in his blue velour onesie and sleeping over his blue and white carrier bed, looks pleasing to the eye. A baby would cherish the whole experience of playing with this blue boy baby doll! As amazing as the name sounds, the whole experience with this doll Finn and his cute dog Sparky mingles well with the emotions of a baby.
The handcrafted details such as eyelashes, hands, etc., provide this baby doll with his special eye-catching features. Another elegant feature of Finn is his 3D ears, which happens to be quite unique in itself.
Your baby might love feeding from his own bottle, but quite certainly, Finn's blue bottle will also make him smile ear to ear.
Sparky, Finn's dog can become your baby's best buddy. They can be with each other, all the time! Sparky is a funny, cute, joyous dog looking for a good companion!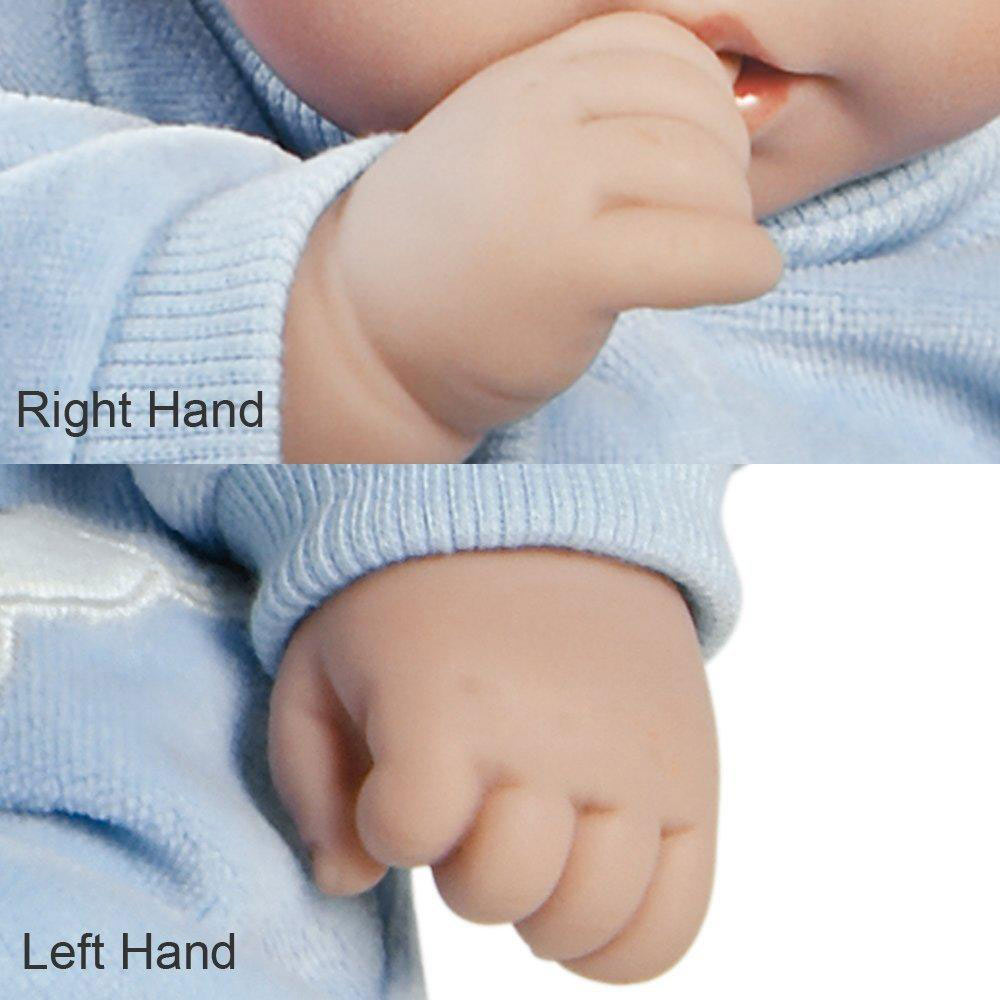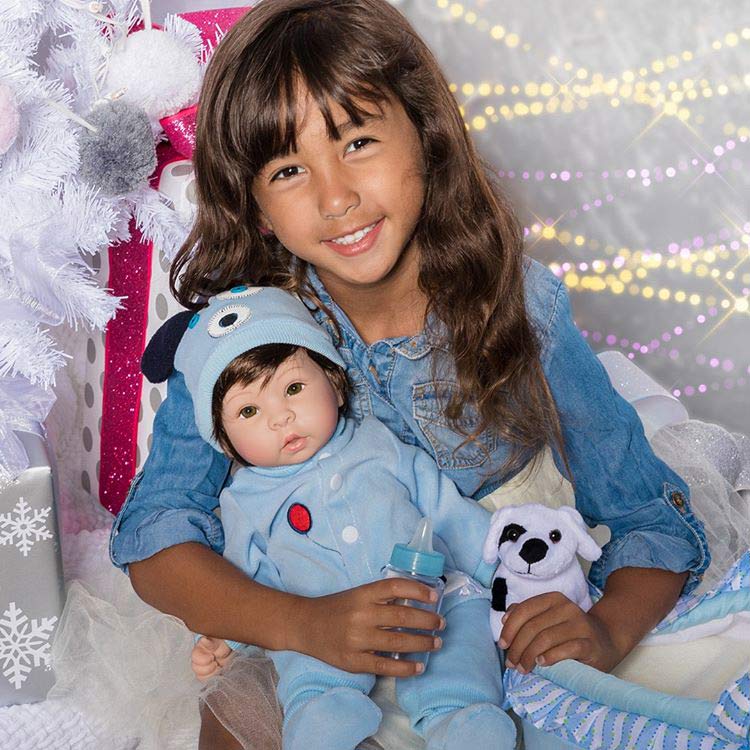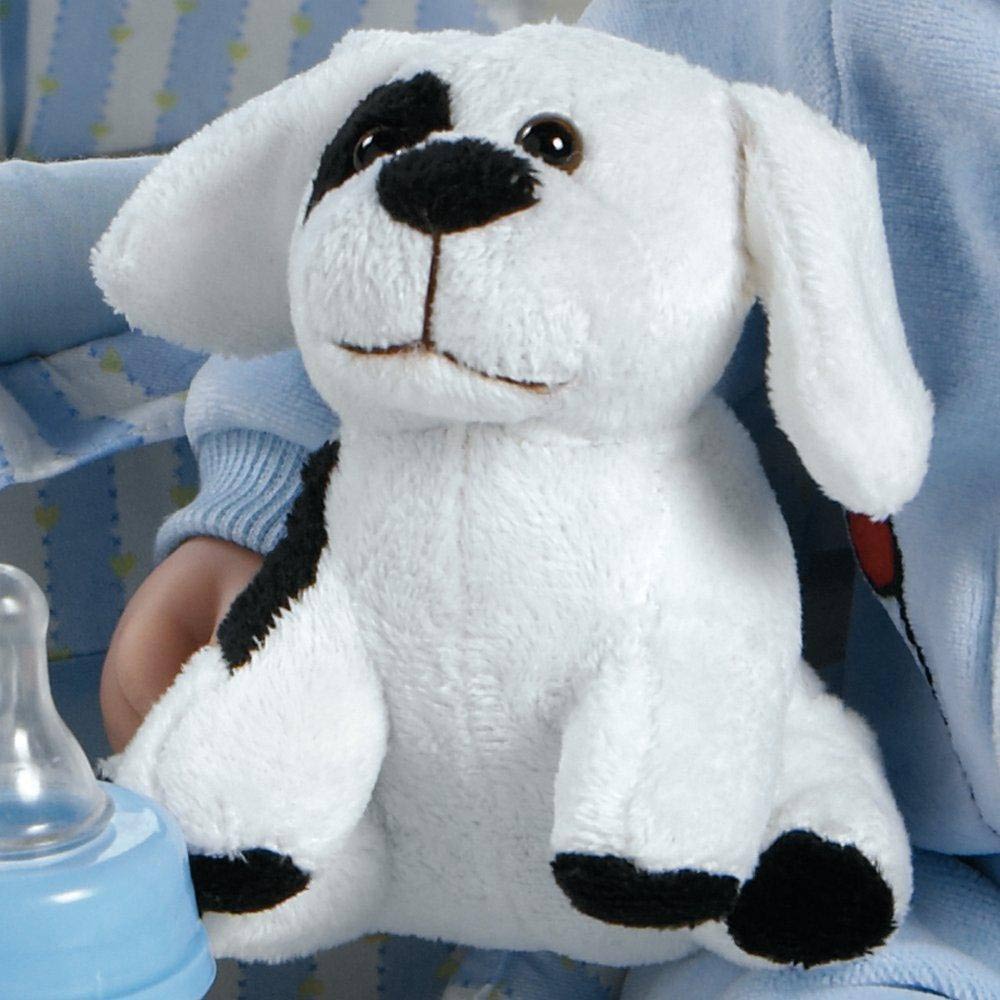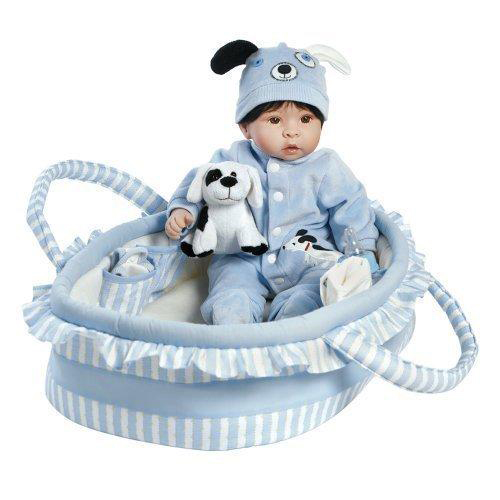 Made with the best quality Vinyl
Finn and Sparky have been made from the best quality Gentle Touch Vinyl and weighted body. The best quality materials make it appear like a real, fluffy and adorable baby.
The best size and shape for a baby
The ideal size of this doll, that is 17'' head to toe, makes it quite handy for a baby to play! It weighs just 1.43 pounds, which will not annoy your baby. He would be able to lift Finn and Sparky, quite easily with his delicate hands!
Amazing add-ons in the box!
Finn dressed in his blue velour onesie doesn't come alone. He comes with his super comfy blue bed, his cute little dog friend Sparky, a cute hat which is again in blue colour to not break the flow!
Created by Paradise Galleries, one of the best
Finn and Sparky Reborn doll have been created by Paradise Galleries, which is one of the best in this industry! They want your baby to have plenty of sweet memories with their manufactured dolls, and they don't see it like a doll. Instead, their vibrant perspective makes them look at it as a true and loyal companion!
Pros
Finn is poseable.
Finn has handcrafted details, such as eyelashes, etc.
He is made with one of the best Gentle Touch Vinyl, making him safe and soft for the baby.
The clothing is removable, and therefore, you may also go with some other colour of your choice.
Finn comes with his cute friend; Sparky and it happens to be a nice add-on!
The doll has already been tested for safety.
Cons
With so many positives associated with the doll, there is one single negative of it, that it cannot close eyes.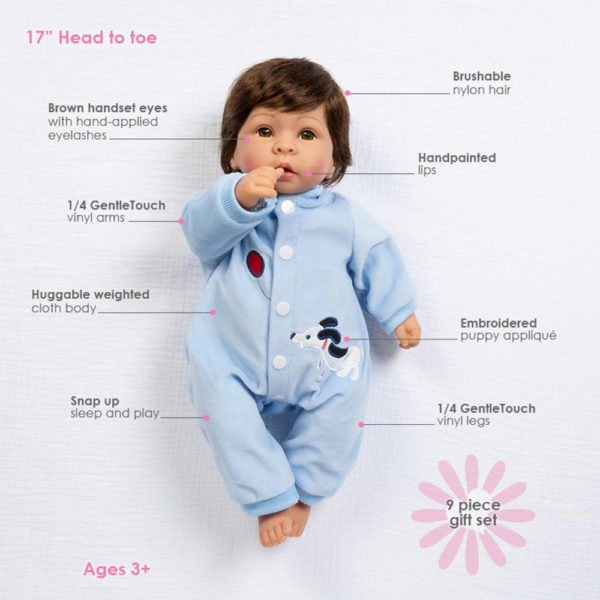 In conclusion, Finn & Sparky happen to be one brilliant pair of toys, made with love. Therefore, do not hesitate in buying it. This little one will win your hearts.