It's time to give your babies, some of the best toys in the market.
Well, their childhood's never going to return and nor their memories. So, why not make it special for them with some reborn toddlers?
Dolls are always close to their heart, more than we can even imagine.
Therefore, we will look at some of the best reborn toddlers available out there in the market.
1)Adora Toddle Doll Woof!
So, this cute doll falls first in our list of best reborn toddler dolls.
It comes with a cute blue onesie, which has puppy print all over it.
The baby doll is twenty inches tall and weighs around 4 pounds. Other details of the doll such as its hand-painted eye-lashes and face, make her even more beautiful than one would even think of.
Her clothes are hand-sewn and the quality is quite evident in the way they appear from the outside. Not just that, but they are also removable.
And the doll is made up premium quality materials, which are safe for your baby!
2)Evursua Lifelike Reborn Doll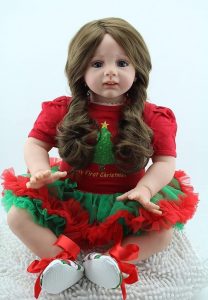 Material: Soft silicone arms and legs, cloth stuffed body
Size: 24''
Hair Color: Brown
Eye Color: Blue
Just, for once look at the pretty doll! She looks adorable just like a real tiny girl!
In fact, its whole theme is around Christmas and she provides you that realistic experience!
You won't face any issues with her size or weight. Her Christmas outfit and acrylic blue eyes will be quite irresistible for your baby.
The baby's arms and legs are movable and therefore, you can also pose it as much as you'd want with your baby!
3)Paradise Galleries' Black Baby Doll Kione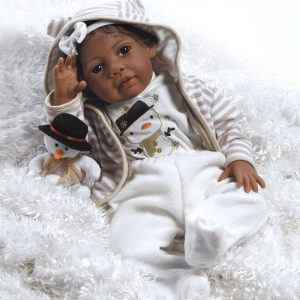 Brand: Paradise Galleries
Material: GentleTouch vinyl
Style: Baby Kione
Size: 20''
Eyes Color: Brown
In the list of best reborn toddlers, it's quite easy to see the name of a doll manufactured by Paradise Galleries.
And their Black baby doll kione, can be a great doll for your tiny toddler.
The warm and comfortable clothes of the baby, as well as its size, make it quite easy for your baby to cuddle with it as much as he would want!
The African American doll is made up of premium quality vinyl, and therefore you need not to worry with the quality of the product!
4)Reborn Baby Gentle Touch Silicone Sleeping Girl Doll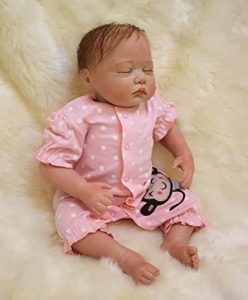 Brand: Loved Doll
Size: 20''
This doll is probably the cutest reborn toddler out there in the market!
She looks amazing from the outside, and even the weight balance of the doll has been done nicely by the manufacturers.
Her pink, sleeping costume is also elegant, with the print of white dots all over it.
She is cute enough to be the toy of your baby.
So, these were some of the best options of reborn toddlers you can look at, for your baby!
Last, I want to share with you a piece of good news, though which is off our topic of this article. That is our blog is listed in the  Top 10 Reborn Dolls blogs. I am happy if you can enjoy reading my blog.