Reborn Dolls are realistic dolls made of vinyl and silicone. The creators make it with extreme detailing and make sure that they look exactly like new born babies. These dolls are considered to be creepy by quite a few people however they actually serve various great purposes.
Since realistic baby boy reborn dolls have surfaced, their journey has actually been quite amazing. It will excite you if we look at the list of some of the best realistic baby boy reborn dolls. Etsy and Ebay are just a few of various sites that provide a doll of all kinds of different physical aspects and both genders. We will take their help, for looking at the list!
1. Cute Reborn Baby Boy Navaeh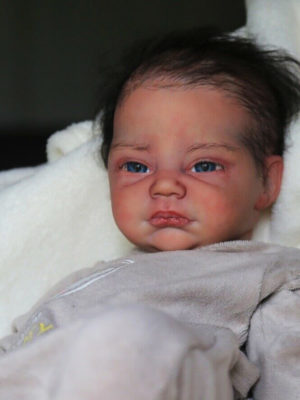 Artist: Denyse Pratt
Size: 20″
Material: Vinyl
Eye Color: Blue
Hair Color: Black
The features that make Navaeh look realistic include the skin of the babies which is an attempted replica of a baby's skin. The more the price, the better the quality and the more realistic the skin.
The baby is 20" inches tall and its body is a cloth body in white, filled with fiberfill plus sand of glass. Navaeh is carefully painted with Genesis Heat Set Paint and varnish.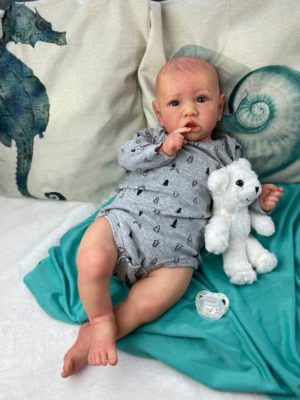 Artist: Beyond The Sea Reborns
Size: 22.5″ (Weight: 6 Pounds)
Material: Vinyl
This chunky, chubby baby-boy will melt your heart! In any case, the details are well inscribed and are the major reason why the doll is so popular. Everything from the hands, the feet, the tips, and toes is made with great attention to detail. The creators aim for the doll to be as realistic as possible. It is the single – most important quality and the highest selling point of the doll.
In your delivery package, you will also get a bodysuit, an authentic hospital hat, a blanket, a hospital bracelet, and a professionally printed artist signed birth certificate.
3. Reborn Baby Doll Boy Ethan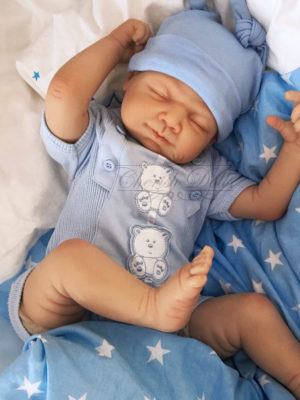 Artist: Cherish Dolls
Size: 22″
This reborn baby doll is also very cute and you will not be able to resist looking at him. When he is sleeping, he looks like someone who has come from out of the world!
It has been painted and rooted carefully as well as precisely. The doll comes in its ideal size and weight, and therefore, your tiny-toddler will never get annoyed with the same.
3/4 legs and full arms which are disc jointed make the arms and legs very movable and posable. Your baby will feel as if, some other baby has crawled up to him and that he has a new companion!
Even this cute baby boy comes with his own outfit and diaper.
4. Paradise Galleries Reborn Toddler Boy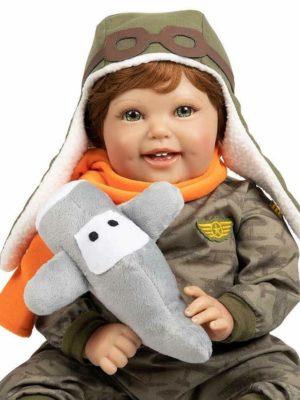 Artist: Lauren Faith Jaimes
Size: 19″ (Weight: 2.5 Pounds)
Material: GentleTouch Vinyl
Eye Color: Hazel Green
Hair Color: Auburn
If it's a doll from Paradise Galleries, one of the best names in the industry, then I hope you already know it will stupefy you!
The boy doll is 19'' tall, and it weighs just 2 and a half lbs! It has been crafted from GentleTouch Vinyl which makes it safe for your baby to play with it. The veining and painting of the baby have been done realistically and precisely, which give it a life-like appearance.
Your baby will definitely enjoy the whole experience of playing and frolicking with this doll!
5. NPK Reborn Doll 22'' Vinyl Silicone Newborn Cute boy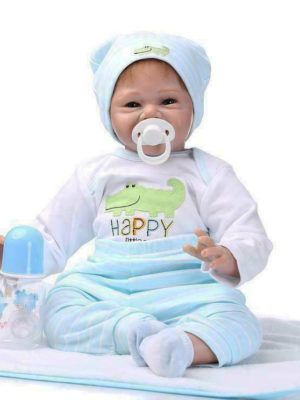 Size: 22″
Material: High-quality Silicone vinyl
Eye Color: Blue
Hair Color: Brown
The baby doll is purely based on the handcraft skills of the maker and therefore you will feel as if it's your own baby! The baby boy has been made with high-quality silicone vinyl, and it is very soft and delicate for your baby's use.
It is very light and not very tall, which makes it kind of easy to use. Further talking about safety, the doll comes with a certificate of safety, and it is made for babies who are 3+.
The baby doll comes with a nice outfit for itself, and also a cute bottle. Its high-grade acrylic eyes will definitely draw your attention and make you love him, even more. Its link will certainly tell you more about it.
6. Paradise Galleries Silicone Reborn Baby Boy Doll Fiercely Loved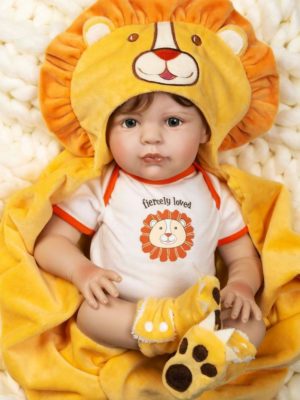 Artist: Jannie de Lange
Size: 20″
Material: FlexTouch vinyl
Eye Color: Blue
Hair Color: Auburn
Another 20'' exciting product from Paradise Galleries, which has been designed by the artist Jannie de Lange. It has been made with FlexTouch vinyl, which makes it easy and safe to use for your small, chubby baby.
The doll comes with a beautiful lion design onesie, plush hooded blanket and plush claw booties. It has blue eyes, auburn hair, which makes the doll eye-espying! It has some of the best-handcrafted details such as lips, fingernails and even toes!
The doll will be chubbier than your own baby and to give you peace of mind, the manufacturers also make sure that the doll is completely safe and authentic, by providing a certificate of authenticity!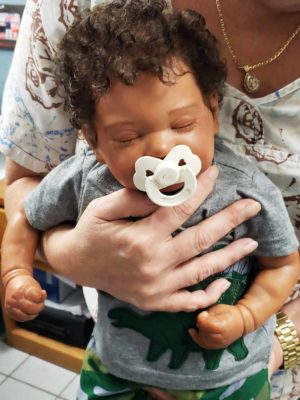 Artist: Joan Mitchell
Size: 23″ (Weight: 1.5 Pounds)
Material: Silicone, Vinyl, Magnets, Polyfill, Polypellets, and Cloth
Hair Color: Black
Say hello to Joan Mitchell newest Sleepy eyed Reborn Baby Doll Nicholas. This is a handsome curly hair (premium mohair that can be styed and curled with water) little African American baby with the sweetest little cheeks and an adorable body and face.
It is 23 inches long, weighs 1 1/2 pounds, wears 0 – 3 months baby clothes and feels like a baby with a cloth poly filled and poly pellets weighted body.
It will come to its new mom with its cute outfit, a custom pacifier made just for him, a bottle, extra clothing of the artists choice, a birth certificate and a toy.
All in all, the dolls are a pretty good investment for anyone who is enthusiastic enough. Even if you're not, life is never too short for trying out new things. You never know when you might find your niche.