There is no denying that reborn dolls are very realistic in both their features and mannerisms. Likewise, it is no secret that the doll market is mostly dominated by Caucasian looking dolls. Considering, there are a diverse group of people in the world, there is always that demand for dolls that capture other demographics. Of course, people tend to identify better with people from the same demographics and the same goes for dolls. As a result, if you are African American and looking to buy a reborn doll for either yourself or your kids, here is a breakdown of the best African American reborn dolls on the market.
It's playtime again with this African American dark skin baby doll. Adoption Baby Joy is 16 inches long with removable clothing and fresh baby powder scent. Your little one will build a special bond with their Adoption Baby as they experience what it's like to bring a baby home.
Adoption Baby Joy is an African American baby doll with brown eyes that opens and closes. She has a medium-dark skin tone and comes in her very own crib, her perfect sized bed.
Adoption Baby Joy will come swaddled in a cuddly soft microfiber blanket, a certificate of adoption, pacifier, hospital bracelet, and a disposable diaper. This baby doll is for ages 3 and up.
Waltraud Hanl "Sweet Butterfly Kisses" Interactive Baby Doll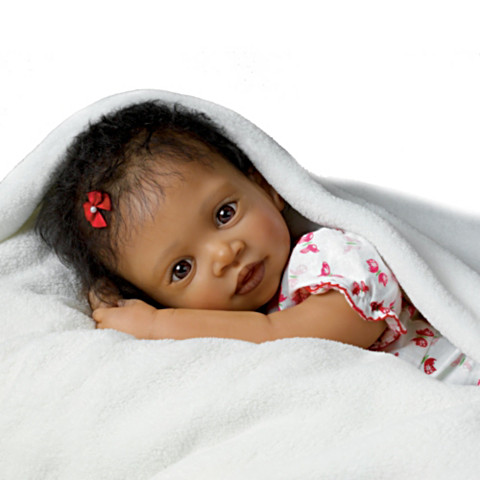 Brand: Ashton Drake
Artist: Waltraud Hanl
Size: 19″
Material: RealTouch Vinyl
Eye colour: Brown
Hair colour: Black
This pretty baby doll is an adorable sight to behold. An amazing touch-activated doll by award-winning Master Doll Artist Waltraud Hanl. The touch sensitivity on this particular dull is so high, there is the coo of delight from the doll at the slightest touch of either a finger or a butterfly kiss.
Sweet Butterfly Kisses Interactive Baby Doll is a joy to cuddle. With the way she is built, she is soft and fits perfectly into your arms like a real baby. In addition, she is hand-painted, got the afro curls that is peculiar to the African American community and baby powder scents. The doll takes it a step further with the attention to details in the toenails and fingers. This Reborn Baby Doll is 19 inches long. She'll arrive dressed in an exclusively designed one-piece outfit adorned with the prettiest butterfly pattern and a Certificate of Authenticity, and wears a matching red bow in her hair. She requires 3 "AA" batteries which are not included in the pack.
Waltraud Hanl "Calvin And Teddy" Lifelike Baby Boy Doll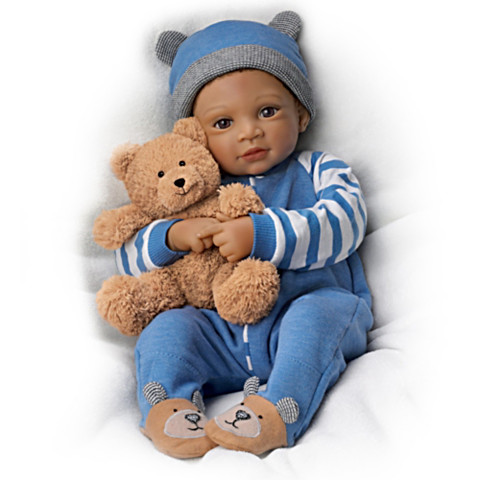 Brand: Ashton Drake
Artist: Waltraud Hanl
Size: 19″
Material: RealTouch Vinyl
Eye colour: Brown
Hair colour: Brown
One of the unique features of the Calvin and Teddy baby boy doll is the fact that it gradually goes to sleep like a real toddler. As a result, he makes for a good bedtime story companion for both practising parents and kids.
The doll is another masterpiece from the award-winning creator and artist Waltraud Hanl. With hand-painted brows, applied eyelashes, blushed cheeks, and hand-rooted afro hair. This darling So Truly Real baby doll is weighted perfectly to mimic a baby's weight.  It is 19 inches long and poseable with a soft cloth body, he'll feel like an actual baby in your hands.
Out of the pack, the Calvin baby doll is clothed in footie pyjamas with drawings of bear feet and faces, a hat that matches its ears, and a teddy bear friend. The doll looks ready for a snap already. He also comes with a Certificate of Authenticity.
Third Annual Photo Contest Winner: Alanna Doll By Ping Lau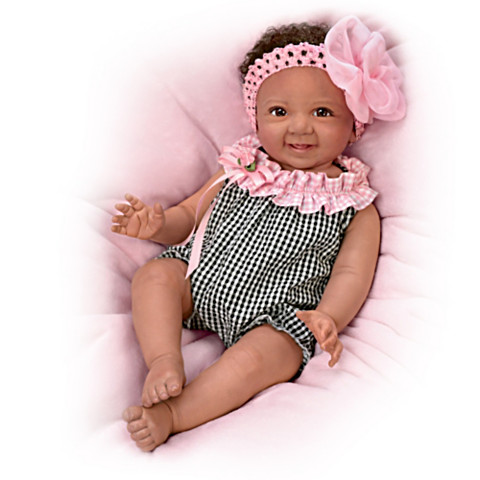 Brand: Ashton Drake
Artist: Donna Lee
Size: 13″
Material: RealTouch Vinyl
Eye colour: Brown
Hair colour: Brown
Aww, isn't she such a cutie. Alanna Baby Doll is the definition of beauty. Alanna is a beauty reborn doll as proven in the annual baby photo contest hosted by Ashton Drake. People say beauty is in the eye of the beholder, in Alanna's case all the beholders are in agreement that she is a true beauty.   This 13 inches long Baby Doll is set to win your heart.
Popular master doll artist Ping Lau is the genius behind the So Truly Alanna Baby doll as part of the collector's portrait edition.  The doll is handcrafted, posses the RealTouch Vinyl skin, han-applied lashes and hand-rooted hair. Her build is such that her blushing cheeks compliment her rosebud lips and delicate brows. She is a true beauty in the right weight and very posable.
She'll arrive in a soft scent of baby powder wearing a charming gingham romper to match the floral organza headband in her soft, curly hair.
This Baby doll is a fine adult collectible, not intended for children under 14.
Reborn Ethnic African American/AA/Biracial Toddler Girl Doll "Kenyata"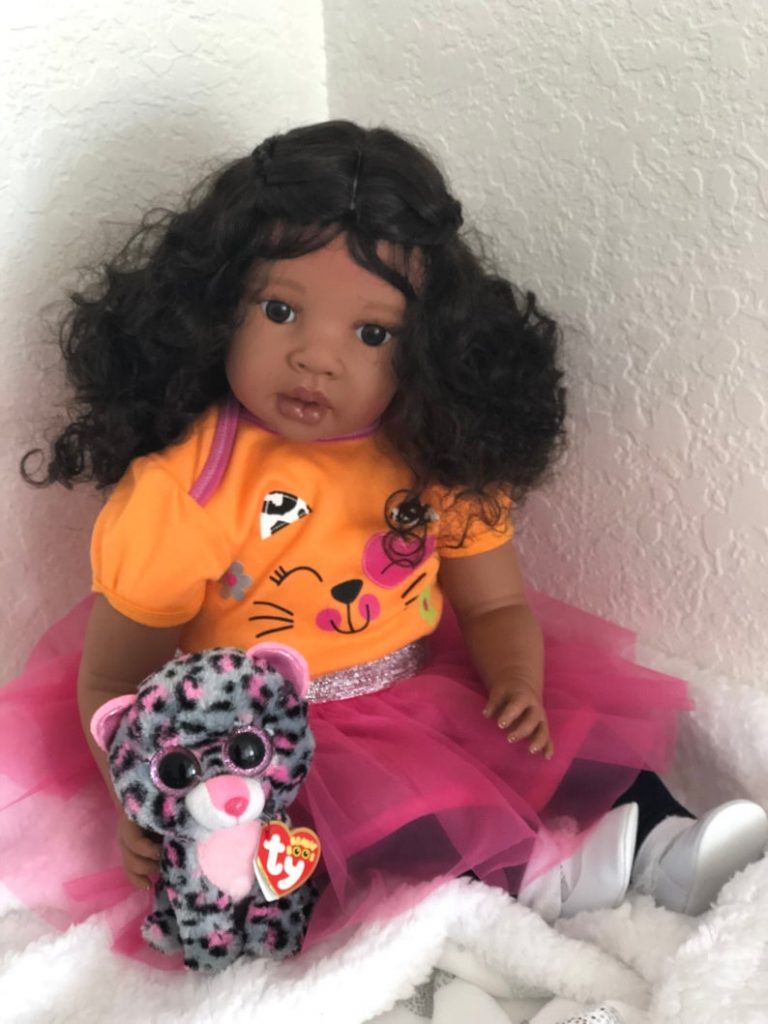 Brand: Etsy
Artist: Donna Lee
Size: 22″
Material: Firm Vinyl Cloth
Eye colour: Hazel
Hair colour: Dark Brown
Kenyata is an African American Cute baby girl doll reborn from Secrist sculpts. It comes with nice details including subtle veining, lifelike eyebrows, lip colour, tipped and glossed nails, and dark brown curly hair
This Baby Doll is 22 inches long and can wear dresses fit for kids age 0-3 months and some 3-6 months, depending on the brand. She wears a size 0 crib shoes or 85mm doll shoes.
She will come in a baby diaper, girl outfit of the artist choice. She'll have her own plush toy, a magnetic pacifier, reborn care instructions and a reborn certificate with her name left blank, so you can rename her if you wish.
Reborn 19`` African American Baby Girl Doll "Shalika" Shyann-made to order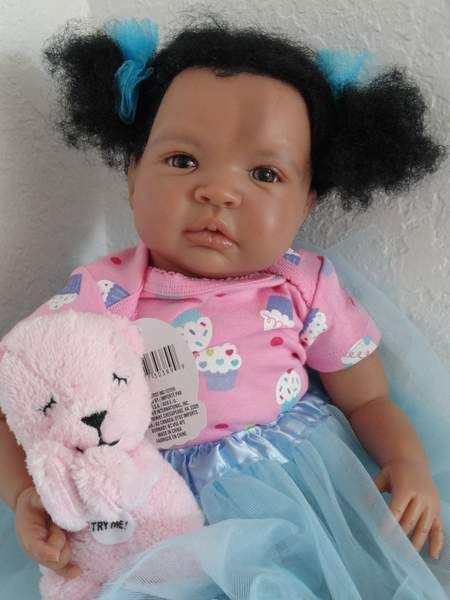 Brand: Etsy
Size: 19″ (Weight 4lbs)
Material: SoftTouch Vinyl
Eye colour: Brown
Hair colour: Black
Baby Shalika "Shyann" is an African American Baby Girl Doll. She's calm, cool and fun. Shalika, at 19 inches long feels like a real infant to hold.
This baby doll wears newborn size clothes, she's got soft vinyl limbs and head with jointed cloth body soft vinyl limbs and head.
Shyann will arrive with a diaper, onesie and tutu, hair bows and pacifier and a surprise plush toy. She'll come with reborn care instructions and a reborn certificate with the name left blank in case you want to rename her.