Are you searching for high-quality and affordable reborn doll car seats?
If it is! So, don't worry, yes! You are in the right place here; some excellent ideas have been added in options to make a car seat for reborn, pretended play, and safety. The quality makers always look out for thought-provoking and full of fun ideas to help our reborn doll moms and dads to make a way of pleasure and extraordinary relationship with their reborn babies. Especially after the (COVID 19), as we have been stuck in our homes, we love to create more time to spend and have more activities to do with these reborn dolls.
Many reborn doll manufacturers have the widest variety of reborn with all the new trending collections here! In this article, how to make a reborn car seat? You will find some procedure to make a seat entirely by hand from start to finish or buy a new car seat. Let's talk about the gorgeous look and safety of your reborn doll during adventure…..
Reborn doll car seat
The reborn doll car seat is a combination of style, function, value, and must-have to all age collectors who want to have their reborn dolls around wherever they go! Because these reborn baby dolls have so many-true-to life details that you won't be able to make a comparison between the reborn baby doll and the real infant.
There is a wide range of reborn doll car seats of different styles and colors.  Blue, pink, purple, multicolor, white, green, beige, animal print, khaki, and zigzag designs are available in the market to fall out pretty look. Fleece, cotton, blended cotton, plastic, silicone, metal sponge, and wood are used in making the reborn doll car seats.
Many reborn parents find it truly attractive, relaxing, and therapeutic to spend time with their preborn babies after a long tiring day at work, and they have a great activity to relax in the form of holding their reborn doll close to the heart or even staring at them as a real baby. Some love to bring them to the grocery store or the park or arrange a long adventure for some pleasure.
Materials for making reborn doll car seat
If your tour is not pre-planned and you have no time to buy a new one. It's not a hectic job; you can make one immediately within no time and required material to get an easy way to make sure your journey safe and full of fun.
Material, which is required mostly for making a seat, is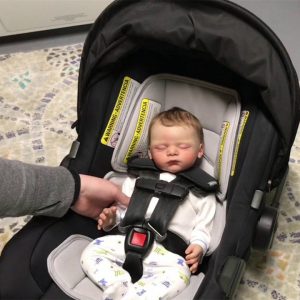 A cardboard or plastic box
Foam
Glue
Scissor
A comfort pillow
A washable soft mat
Seat belt
Seat belt strap cover
Blanket to cover the box
A reborn baby doll car seat is the best way to consider the importance of good passenger safety. All the accessories used to make are thoughtfully crafted to give parents peace of mind: playful, real, and durable. Foremost, you'll have to decide the type of car seat you want for your reborn doll. With its gender, the color scheme of dark and light, it may be in any color. It can never go wrong with whatever style carry for the day.
How to select a reborn doll car seat?
Here are some tips about selecting a reborn doll car seat as well as…..
Firstly, if you buy a car seat for your reborn doll, it should be fit according to your doll's height and size. Secondly, the reborn doll car seat has soft straps to keep your doll safe and secure during a long journey or road trip. Thirdly, your reborn doll car seat has rotatable handles that can help to rotate your doll around on grocery runs, in playgrounds, to the park anywhere and anytime.
Always discover the creative use of your reborn doll car seat and make sure your selection depended on age. Your reborn car seat should be suitable for kids with its light weightiness materials and sleek finish. All reborn dolls car seats are crafted to give the parents feelings of peace of mind. They're playful, creative, durable and, most of all, they're made for play. Always choose a durable and soft and remove the able cover. So, have a selection of fabric that is comfortable to remove and wash.
 Be aware of fake car seats.
As we know that cheap plastic boxes or handbags don't hold up like real ones. It is the same as a fake car seat in a crash test is threatening to break into many sharp pieces.
Fake car seats are a growing threat to kids as the number of brands increasing in markets. As parents buy car seats of third class sellers on different brands and other deal-oriented websites, they seem to pop up daily.
Mostly, parents think that they're getting a deal, but they are often getting a trap of threat in reality. Fake products create risks. Right now, a retail outlet that has at least one physical location is the best way to avoid buying a fake car seat; however, there are few objections to watch out for.
Conclusion
Many reborn doll consumers use these reborn to reduce grieves. It is also used for the fun purpose of young kids. However, whatever the purpose of buying a reborn doll is, you always want to have a great time with your reborn not only at home but also outside. Therefore, you can make a car seat for your reborn doll and go on a vacation or for a ride.