Some realistic reborn baby dolls are designed to be attractive collectible dolls instead of toys for children. The Reborn doll Circa by Irene is a fair example of this. The baby doll has a fascinating Vintage Circus Fantasy painting style. She will definitely become one of the most amazing gems among your collection.
What's in the box?
Reborn doll*1
Kitsch Street clown outfit*1
French inspiration dress, bolero jacket &beret*1
Pink shabby chic outfit*1
Headband*2
Blanket*1
Latidos Reborn Certificate*1
Latidos Reborn Care Instructions*1
You may also want to know
Artist: Irene
Doll Gender: Girl Doll
Eye Color: Blue
Hair Color: Light Brown
Size: 26.5″ (Weight: 7.87 Pounds)
Material: Fabric Body, German Glass, HQ Babylocks mohair, Ultra Fine Glass Beads, Polly Pellet, and Premium Silicone Fiber Fill
Not a Toy for Children
The real life like baby doll Circa has amazing detailed features that add to the beauty of the doll. The details are all handcrafted with special attention to make sure that everything looks perfect. Certain details that give her a childlike air are accentuated by the artist, such as the multicolored manicure surrounded with silver paint and circular redness on the cheeks, elbows, and knees.
Please keep in mind that Circa is not a toy for children; she is a fine collector doll not meant for rough play.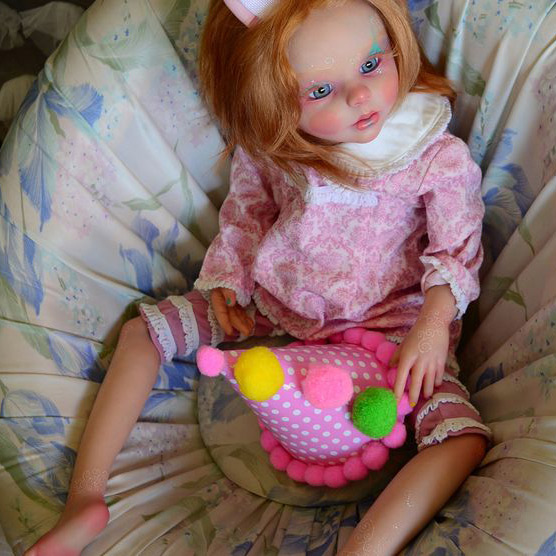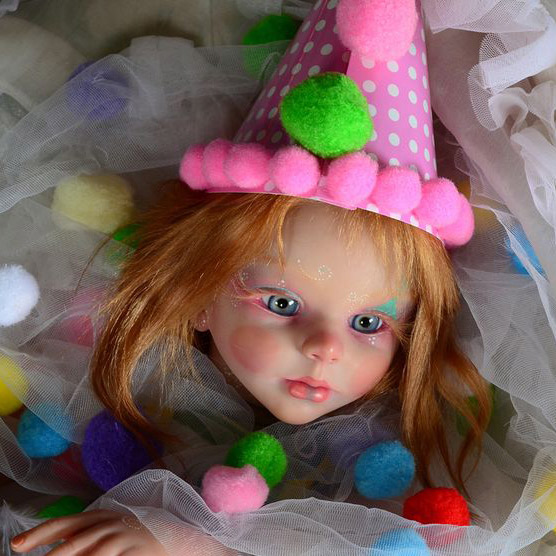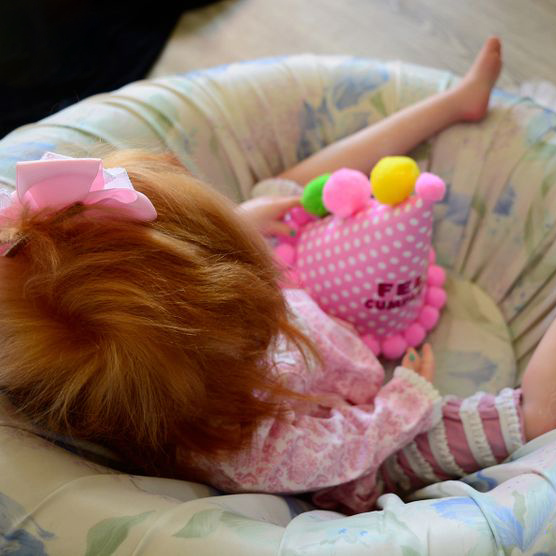 Inspired by Vintage Circus
Circa is inspired by the warm memories of the vintage circus. The color palette plays with faded d tones with the intention of creating the illusion that it is Circa who has made up for herself.
Circa is painted with Genesis Heat Paints. The artist opts for a vintage circus painting palette and decorates several areas with motifs that harmonized with the magic beauty of this sculpt. Many layers of different colors are applied to give the skin tone depth and realism.
Delicately Painted Complexion
Circa is delicately painted complexion and every detail has been shaded and bright places. The finish is a varnish protection and a texture medium to increase real skin appearance.
Circa has a fabric body and is weighted with high-quality and non-toxic materials: ultra fine glass beads, Polly pellet, and premium silicone fiberfill. Only high-quality materials are used to create the baby.
Pros
Durable
Huggable
Poseable
Exquisite realistic details
Soft hair which can be styled
Cons