The most important characteristic of reborn silicone baby dolls are the looks. Their realistic life-like appearance is what makes them special and makes them stand apart from all the other normal dolls. The skin of these dolls is made of silicone and that makes it very identical to a real baby's skin. It almost makes you believe that the doll is real. In fact, the people who own these dolls call themselves parents of these dolls. The creators also pay significant amount of attention to detail while making them so that they are anatomically accurate.
Various online stores that provide such full body silicone baby dolls also provide varieties of these dolls like different ethnicities, eye colours etc. Since it is up to the creators to make these dolls look however, they like to, they make fictitious babies too. Like alien babies, werewolf baby etc. The making of these dolls is completely up to the imaginations of the creator and the demands of the collectors or "parents". Whatever shape or form they want the baby in, will be available to them.
Apart from physical characteristics, these dolls also come with clothes and parents of these dolls like to dress them up in different costumes, wash them, feed them etc. To fulfil these purposes there are clothes and accessories, toys and other things related to these babies available on the internet.
We will actually look at some of the best reborn silicone dolls available out there on the internet, so that you get a better idea regarding their amazing quality and features!
1. Full Body Silicone Baby Doll Abigail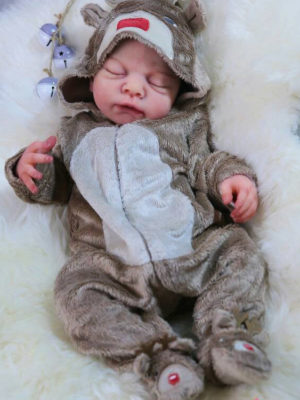 Artist: Elena Andreeva
Size: 20″ (Weight: 9 Pounds)
Material: Silicone
Hair Color: Brown
Abigail is the sweet name of this reborn baby girl doll. She is very cute, and her body is completely made up of high-quality, super soft eco-flex 20 silicone.
The doll has been handcrafted precisely, giving her a lot of incredibly lifelike details like hand-rooted eyebrows and eyelashes, little veins, capillaries, blushing in all the little rolls and creases, and little finger and toe nails.
Abigail's head is totally micro rooted with Premium mohair of two colors (brown and baby brown). Each hole contains a single hair that allows you to have hair easy to comb. Her hair is very soft and fine, just like real baby hair.
2. BEABRÜ Baby Reborn Dolls "Real Baby" Silicone Vinyl Soft Body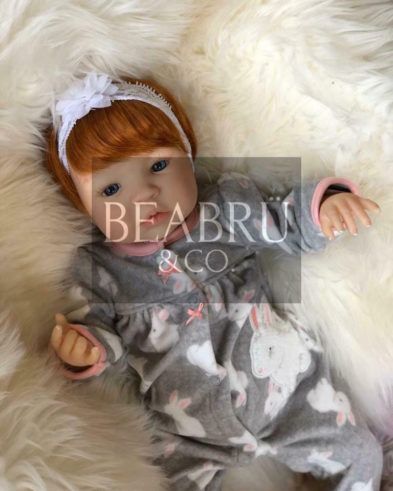 Artist: BeaBrü&Co
Size: 18″
Material: Silicone
Eye Color: Blue
Hair Color: Brown
This cute baby doll will definitely draw your attention. This girl doll, is made up of high-quality silicone vinyl, which makes her an easy choice for your baby.
She's made by BeaBru&Co, and the handcrafted details give her an edge over other dolls.
Her soft silicone body is soft enough to make you fail in differentiating between your baby's skin and her skin!
It's pretty certain that even your children will like this doll!
3. Full Body Silicone Reborn Baby Girl Doll Suri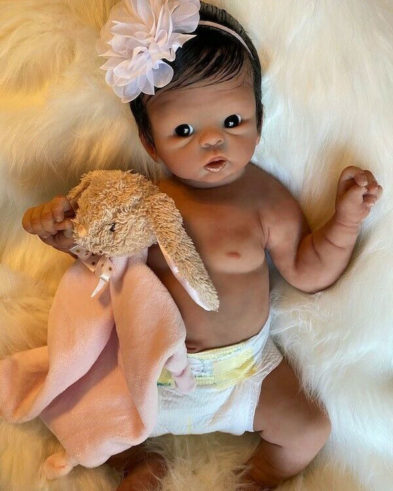 Artist: Tasha Edenholm Original
Size: 19.5″ (Weight: Over 10 Pounds)
Material: Silicone
Eye Color: Black
Hair Color: Black
The girl doll Suri is quite exquisite, and she will make your baby fall in love with her.
Suri is made with pure and soft silicone, which provides her finess. Your baby would definitely enjoy cuddling with it. Suri is 19.5 inches tall and a little over 10 pounds, which weighs just like a real baby. She is anatomically correct.
She can really be a nice choice.
4. Full Body Silicone Baby Boy by Tiffany Hynes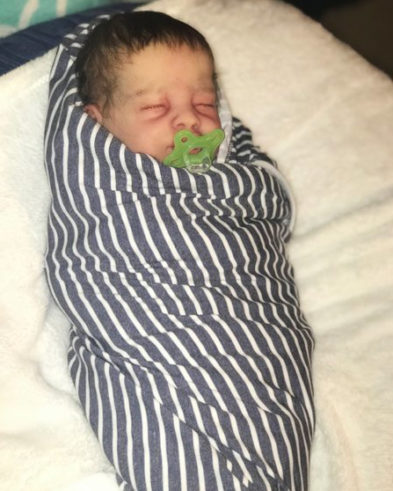 Artist: Tiffany Hynes
Size: 20″ (Weight: 9 Pounds)
Material: Silicone
Hair Color: Black
This is a lovely Reborn Silicone Baby Boy, who is 20 inches tall and weighs 9 pounds.
He has rooted hair and eyelashes and painted eyebrows. He takes a smaller pacifier as well. His feet and hands are manicured and he has veining and mottling details, giving him a touch of realness. He will be sent home with some goodies.
He has his own charm, and therefore, you can relax about it.
5. Custom Made Reborn Baby Hybrid Fantasy Avatar Full Platinum Silicone Doll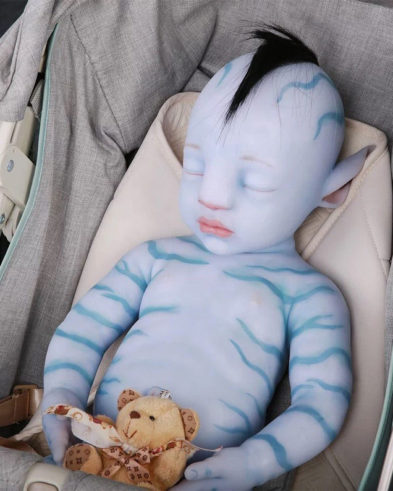 Artist: Kayla M
Size: 20″
Material: Silicone
Here is your chance to adopt a beautiful, unique avatar baby! 100% platinum silicone has been used to make this beautiful baby which means that the skin is soft and realistic to touch, just like a real baby.
As only the highest quality materials have been used in a professional manner, you may bathe him/her in warm water without any damage occurring.
The baby is sleeping, therefore eyes are fixed closed. You may choose from either male or female and also choose for your baby to be with or without full rooted hair.
6. Full Body Silicone Baby Chloe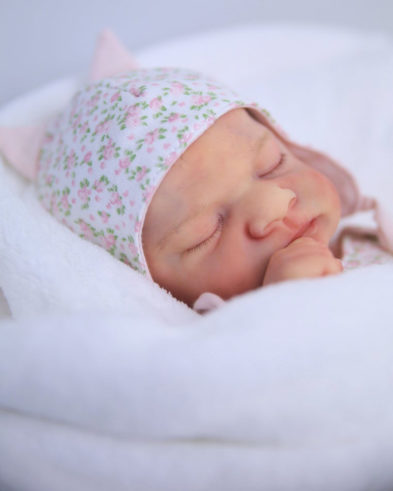 Artist: Elena Andreeva
Size: 14″ (Weight: 4 Pounds)
Material: Silicone
Hair Color: Brown
Chloe has been manufactured by Elena Andreeva.
Her body, which is very soft and delicate, is made of the highest grade Platinum EcoFlex 30 silicone. Therefore you will never feel bored of her touch.
Chloe has a stunning skin just like a newborn baby. She has tiny veins and capillaries to achieve her beautiful and very realistic baby skin.
Her eyebrows and eyelashes are micro rooted with Premium mohair. Her baby brown rooted hair looks enticing, and the cuteness associated to her face makes her very adorable.
7. Full Body Silicone Baby Doll Forest Custom Order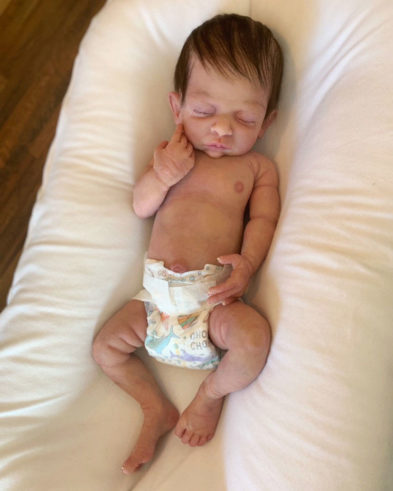 Artist: Caroline
Size: 20″ (Weight: 7 Pounds)
Material: Silicone
Hair Color: Brown
Forest is a soft solid Silicone baby boy that can move and flex like a real baby! His soft well-sculpted neck allows his head to easily turn from side to side for posing.
Baby Forest is newborn size at 20" long. He wears size newborn. He has a mouth with gums and a tongue and can take a full size pacifier. He is painted with very realistic soft veining and blushing. His hair will be realistically micro-rooted in soft high quality angora mohair in choice of color at checkout.
This baby doll is a delightful achievement and he will be surely loved by his new mom!
8. Full Body Sleeping Silicone Doll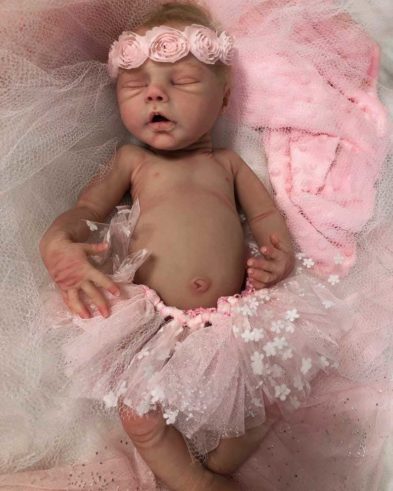 Artist: Master Craft Dolls
Material: Silicone
Hair Color: Blonde
This is a beautiful solid full body preemie size silicone doll sculpted by Alejandra Zugana and painted by Master Craft Dolls.
She is cast in Ecoflex 20 silicone and is a sleeping baby. She is rooted with blonde premium soft Alpaca hair, which is hypoallergenic, and is painted with high quality pigments that will not fade over time.
This baby girl will come with a certificate of authenticity and a full box opening.