She is the perfect baby doll you would want to get for your child. The Adora doll looks lovely in her sporty pink and gray multi-layered leggings. The pink bow attached to her helps to highlight girl power, which means you get to create a lot of girl time for your baby girl. Her smile is infectious and will get you smiling back. She comes in a complete package which features a diaper. With this doll, playtime just got better and more fun. It is a great doll to help teach both your child and you how to care for someone else.
What's in the box?
Reborn Doll*1
Onesie*1
Diaper*1
You may also want to know
Doll Gender: Girl Doll
Eye Color: Blue
Hair Color: Light Blonde
Size: 20″ (Weight: 2.2 Pounds)
Material: High Quality Vinyl
Ratings: 4.5 out of 5
Ages 6 and above
The Adora Toddler Cat's Meow Doll is dressed in a white hoodie vest, a ruffles skirt, a pink and grey sporty legging to match. The look is made complete with a set of kitten ears along with matching shoes and a fuzzy cat purse.
The beautiful baby doll has an adorable set of blue eyes to compliment the hand-painted French manicure. She comes ready to dazzle with a nicely scented baby perfume and hand-applied lashes. Her guzzling stare is sure to warm your heart, leave you in awes and make you forget about all those lonely moments.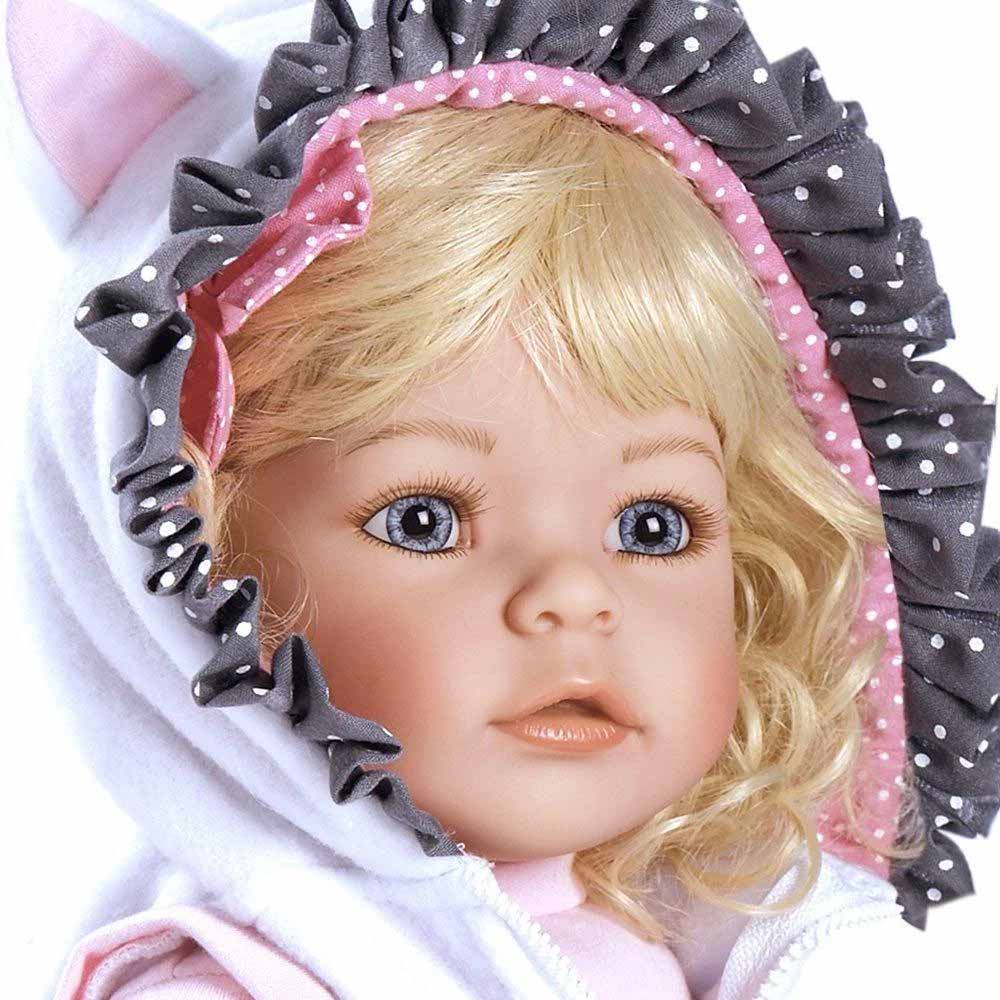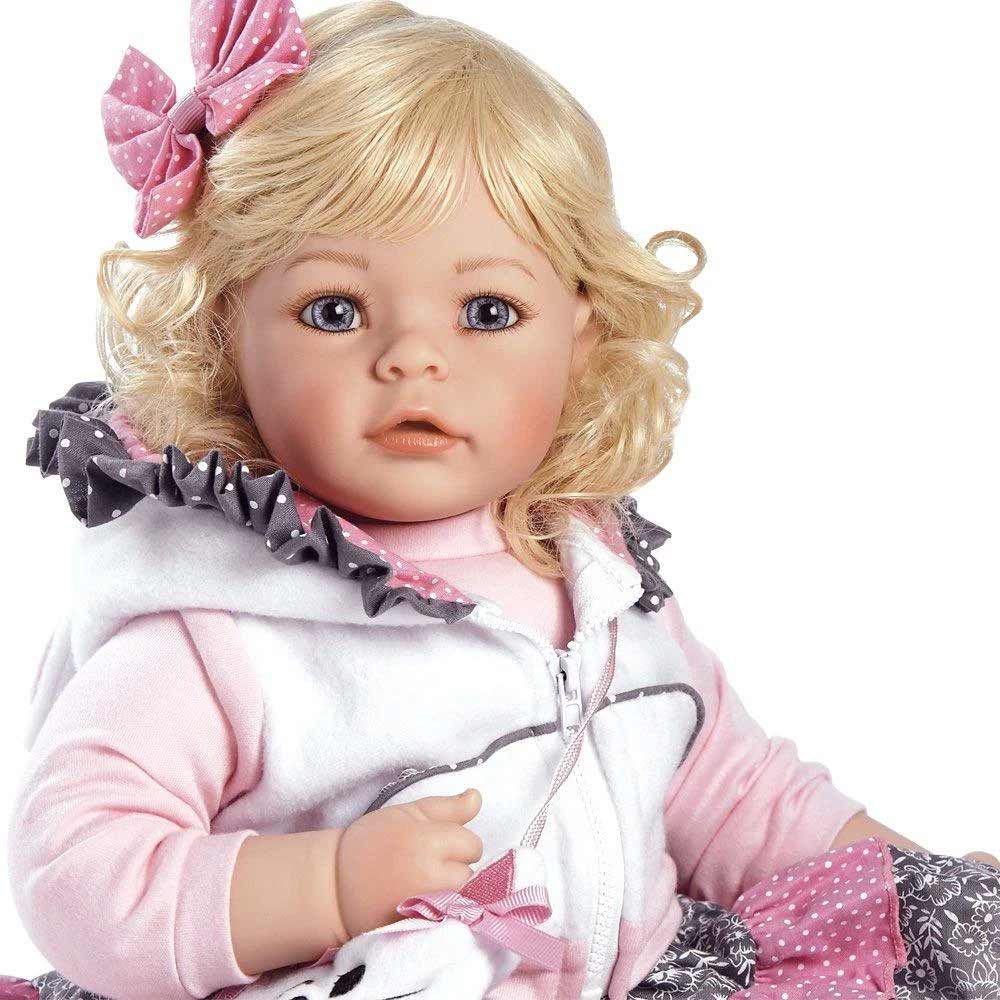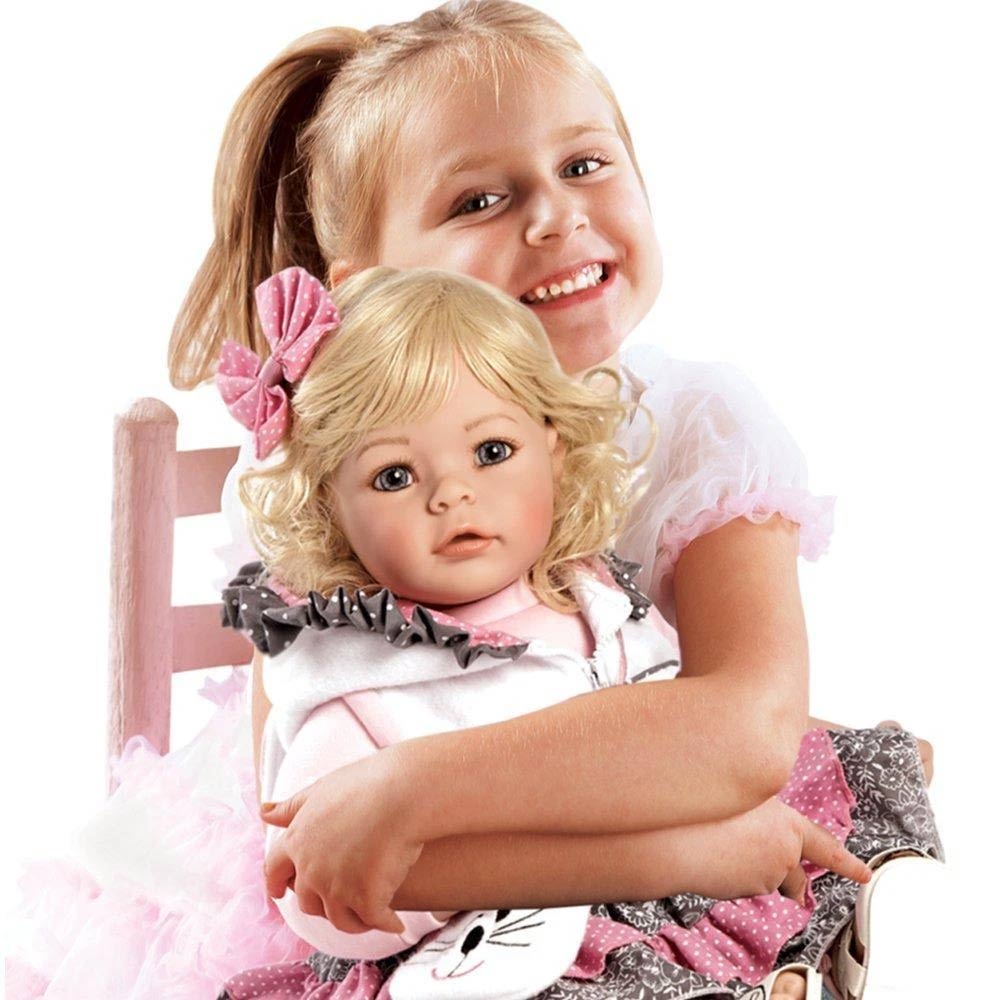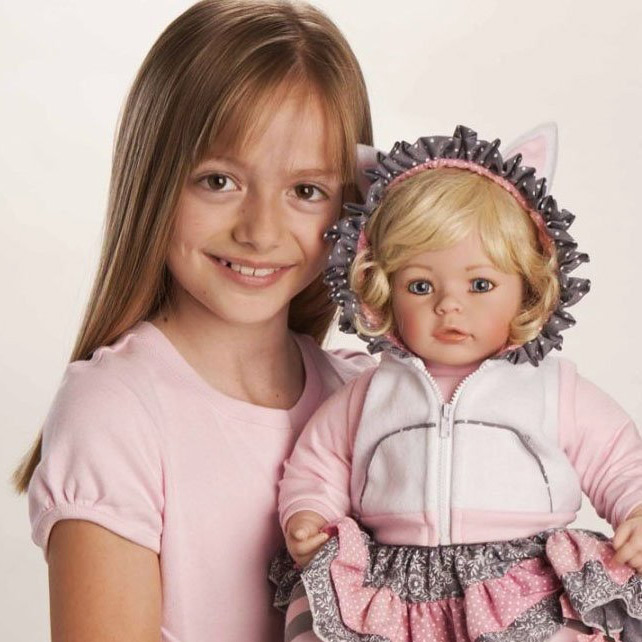 The Adora baby doll has blonde hair with soft curls that you can style as you wish. Her blonde hair compliments her charming blue eyes and makes you appreciate the aesthetics of white beauty.
It might interest you that her clothes are hand-sewn and are of the highest quality. Similarly, you cannot miss the eyelashes that are hand-applied and the paint on the face which is also done by hand. The level of skills put into making this beautiful lifelike doll shows. Her features compliment her playful and nurturing look.
The Adora Cat's Meow is 20 inches long from head to toe. It is the perfect size for tiny hands to carry her everywhere. The baby doll is made from top-quality vinyl. She is scented with baby powder, and her head, legs and arms are very movable. She is the ideal toddler doll for kids age 6 and above.
This baby doll weighs the size of a baby around her age, which makes her feel lifelike. It gives your child that feeling of responsibility for catering to someone. It is a great way to teach a child about love, care and responsibility.
Pros
Poseable
Beautiful hand-painted details
Hand-applied eyelashes
Comes with a diaper
Cons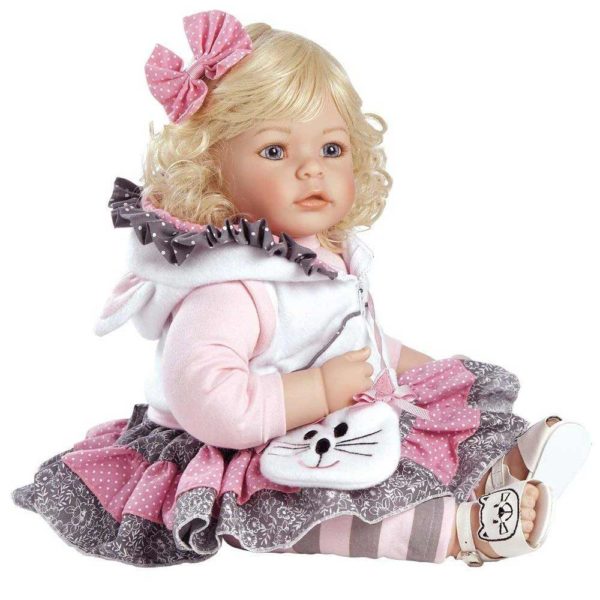 This adorable Adora Toddler The Cat's Meow Baby Doll will arrive, dressed for playtime smelling nice and with diaper. So, if you are expecting to give birth to another female child and want to get your child acquainted with having a baby sister, the Adora Toddler The Cat's Meow Baby Doll is the perfect doll for you.