Realistic baby dolls are gaining popularity in the doll industry for kids and doll collectors alike. The reborn baby girl dolls in the Adora toys category are perfect for playtime for kids aged 6 and above and doll collectors alike. Adora Dolls have a good reputation for developing interactive and realistic dolls that grab attention. Baby Girl Doll Adora Workout Chic is an ideal example of this.
What's in the box?
Reborn Doll *1
Outfit*1
Diaper*1
You may also want to know
Doll Gender: Girl Doll
Eye Color: Brown
Hair Color: Brown
Size: 20 Inches (Weight: 4 Pounds)
Material: Baby Powder Scented, High Quality Vinyl
Rating: 4.5 out of 5
Ages 6 and up
The Workout Chic has a cozy, soft brown velour workout outfit consisting of a shirt and trousers. The workout outfit has details like a big pink flower applique along with a dark pink shaded trim. The sweatshirt is removable and has a t-shirt underneath that is made of jersey knit and is hot pink in color. The jersey knit t-shirt beautifully goes well with the applique matching shoes.
The doll is adorable having silky and soft brown hair, with a delicate handset of detailed brown eyes. The fingernails are also painted by hands and are given a French manicure to complete the whole look of the Adora baby doll. Eyelashes of the reborn baby girl doll are also hand-applied.
The Baby Girl Doll Adora Workout Chic measures up to 20 inches from head to toe while standing and therefore is highly easy to carry for young children and is easy to play with. The weighted baby doll is created in order to give a realistic feel while playing with the reborn baby girl doll. The bodyweight of the Adora baby doll is 4.0 pounds, while the shipping weight totals to 4.06 pounds.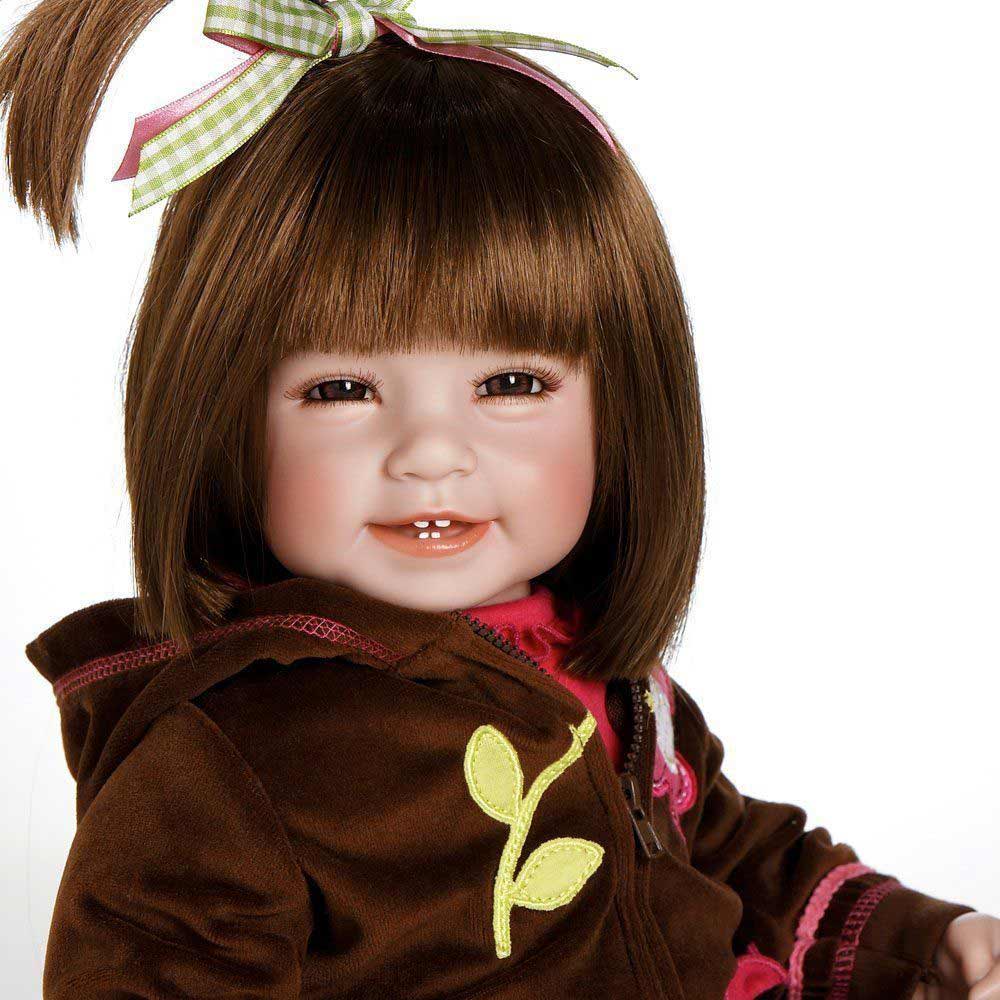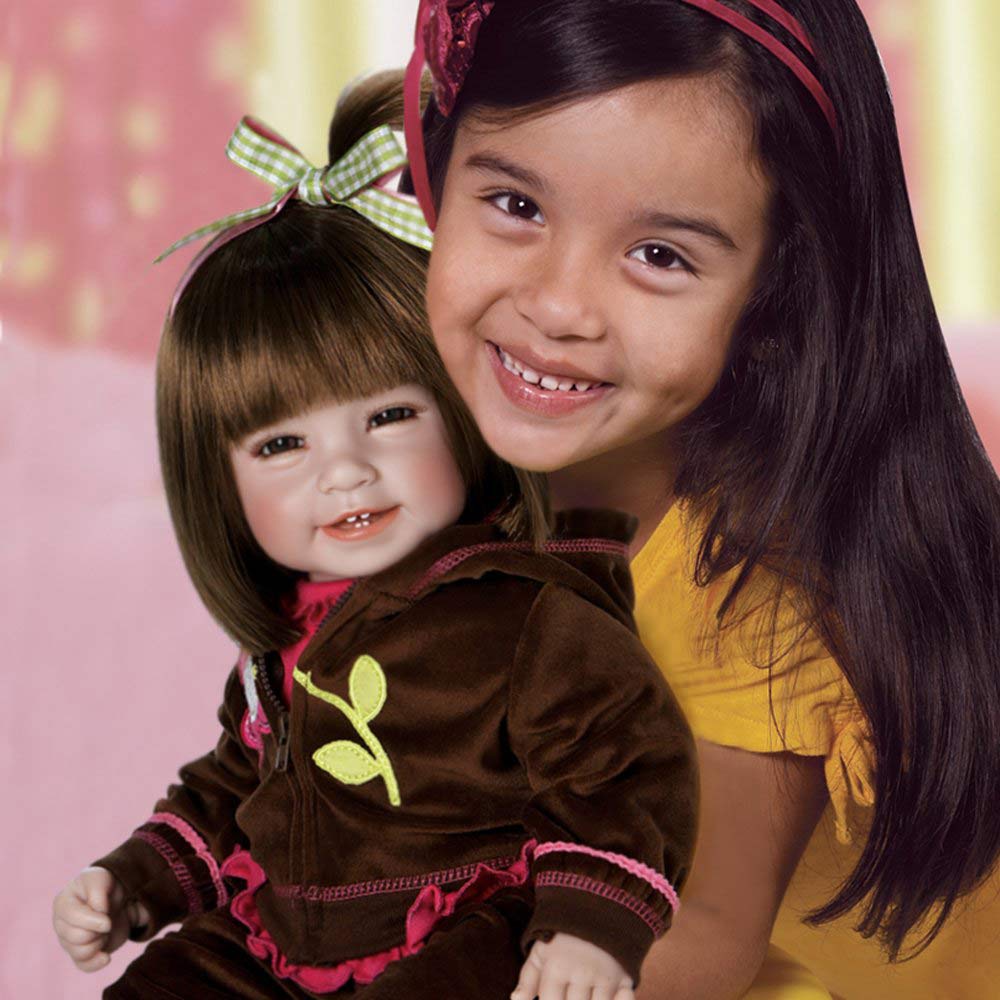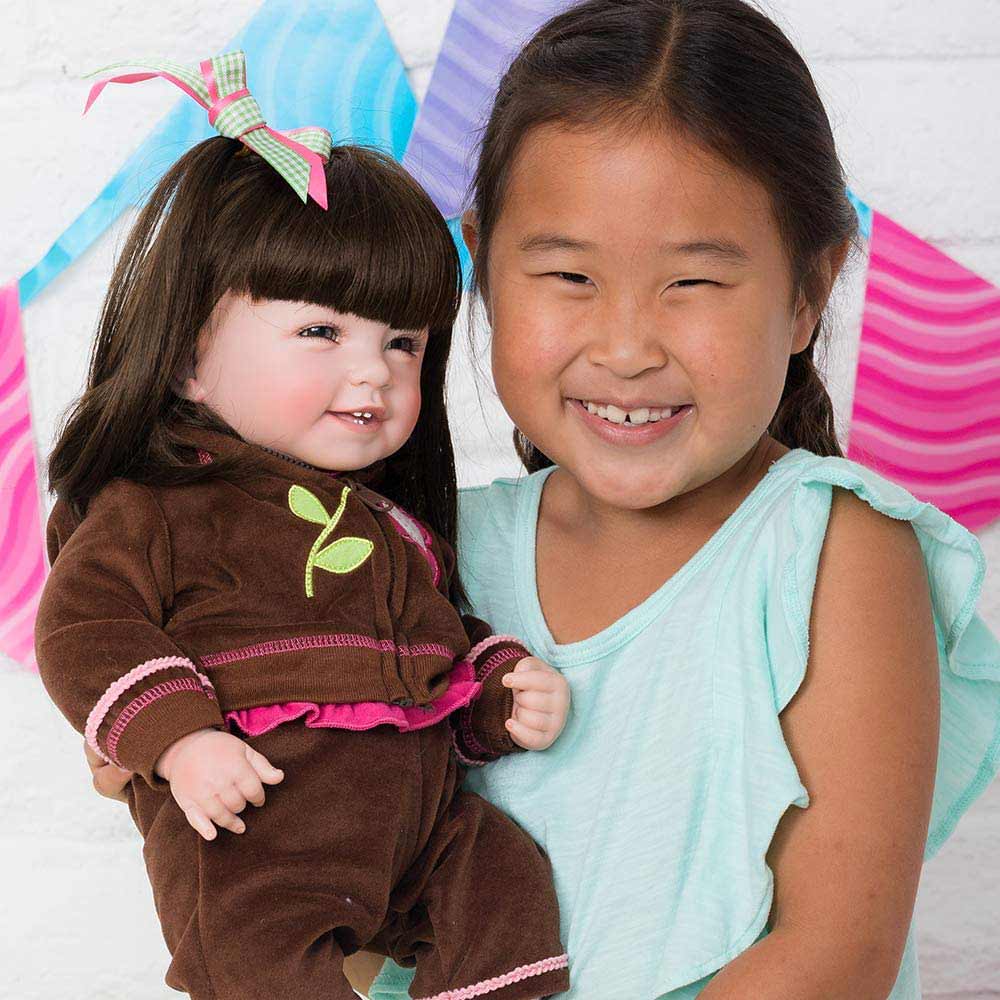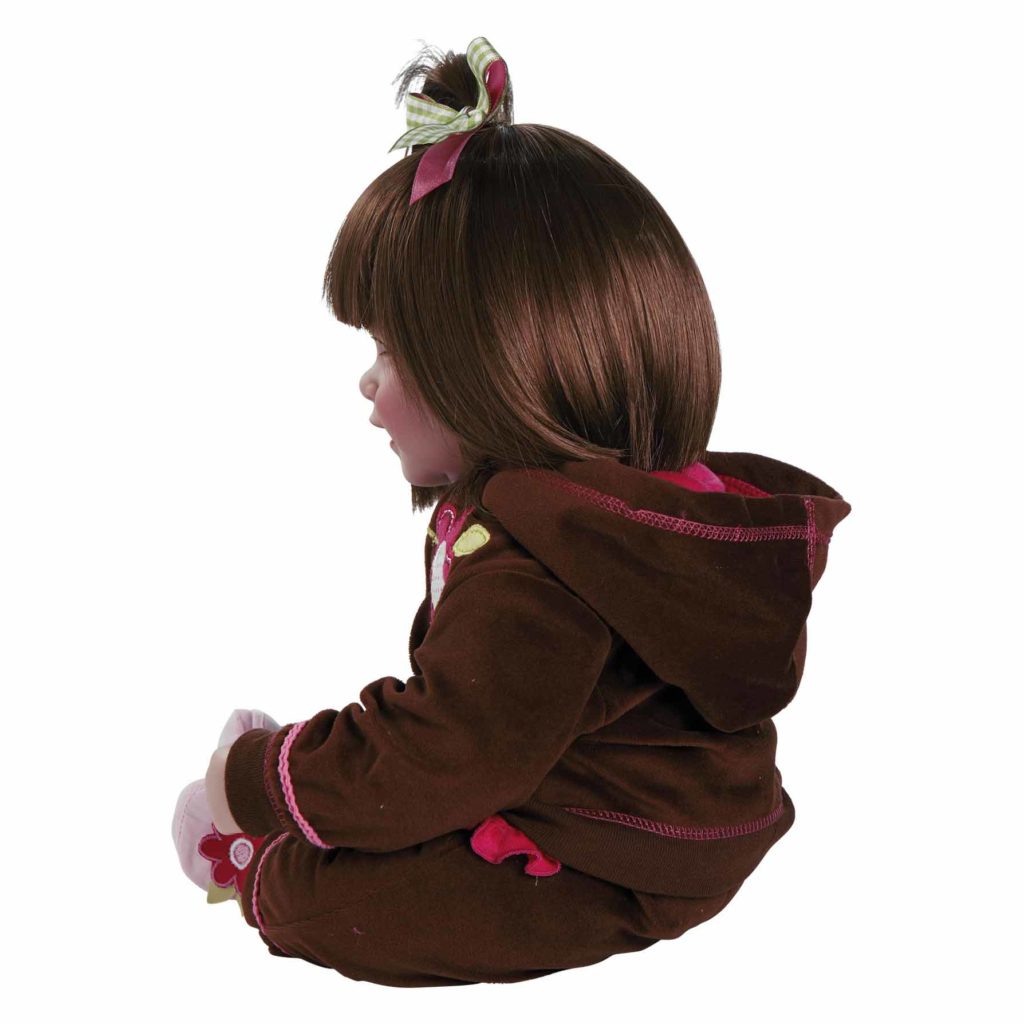 Details of the Baby Girl Doll Adora Workout Chic
In addition to the amazing hand painted and handcrafted details, the Baby Girl Doll Adora Workout Chic comes with a scent of baby powder to give a realistic feel and adds to the freshness. The face details like the lips are hand-painted to achieve perfection, while the outfit is hand-sewn. Children can brush the soft brunette hair and make ponytails and other hairstyles of their choice. A green and white bow is tied to her hair that gives an adorable look to the Baby Girl Doll Adora Workout Chic.
Moveable Features of the Baby Girl Doll Adora Workout Chic
The arms, legs, and head of the Adora baby girl toy can be easily moved, making it ideal for playtime as this feature adds to the life-like quality of the product.
Accessories with the Baby Girl Doll Adora Workout Chic
The baby comes with a diaper for a more realistic playtime. Not only the diaper is good for a more fun and engaging play time, but it is also great for inculcating nurturing and social skills in your children. Moreover, the child learns that taking care of others is an essential part of the process.
Trademarking and Certification of the Baby Girl Doll Adora Workout Chic
To ensure quality check of Adora Workout Chic, the manufacturers have got the product tested for its safety. Moreover, Workout Chic has a Certification of Authenticity that ensures the quality of the final product and is essential for quality check for the consumers. The product is also hypoallergenic, which means that it does not cause any irritation or allergy to kids and doll collectors having any kind of sensitivity or allergy and is, therefore, safe to use for children of young age.
Pros
Moveable features
Hand-sewn premium quality fashions
Realistic soft baby skin feel
Weighted for realism
Fresh baby powder scent
Removable clothing
Cons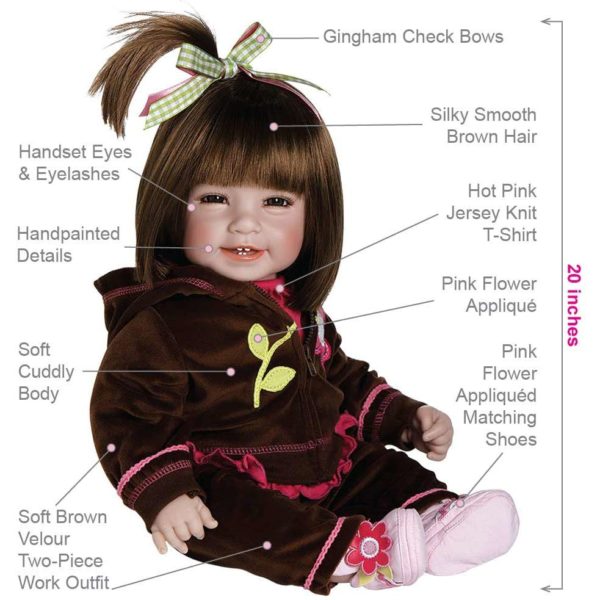 The Adora baby girl doll is ideal for cuddling and snuggling while also offering a good way for nurturing skill development in children. The scented baby powder along with the best quality vinyl makes it a product of good value. The doll has a moveable head and limbs that make her seem alive. It also helps the child to learn social skills. The soft brown velour makes a perfect outfit for workout and looks highly fashionable and appealing to look, so it serves as a good decorative piece in the room too besides being a toy for playing. The applique details on the outfit with the pink jersey and t-shirt along with the fabric shoes are made of soft fabric of high quality that lasts long and is washable. The clothes are well stitched and do not get tapered with time, so the durability of these clothes is appreciable.