Taking pictures wasn't really that big thing but all it took was the introduction of social media and, boom! Everything started revolving around pictures. Everyone had a camera in hand and almost everyone became a photographer.
People take pictures of the things they love, memories they like to cherish and it is also great for publicity. When it comes to reborn dolls, they can be photographed for both the mentioned reasons.
For the people really attached to their dolls, they often like to dress their dolls up and photograph them solo or take pictures with them. But if you're a reborn doll collector or seller, taking great pictures of your reborn doll could definitely help with your business.
The better the picture, the better the memory and the business transaction. But taking a good picture can prove to be quite a tiring job as there is a lot to consider. So, to put your worried mind to ease, we bring to you some of the best tips for taking great pictures of your reborn dolls.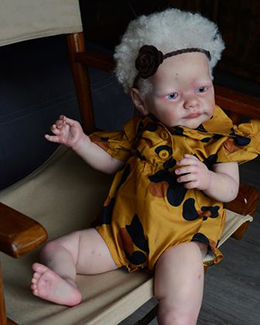 A picture can only be as good as the medium it's being taken from. Therefore, it is important to ensure that you have a camera that gives good results and is easy for you to operate.
Nowadays there are numerous professional cameras and DSLR cameras that are easily available at reasonable rates. If you don't have a professional camera then the mobile phones these days are no less either, with amazing resolution and built-in editing tools.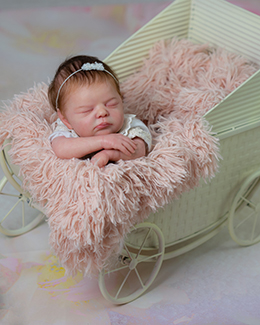 Good lighting is another key aspect for a good picture. It is important to understand that one does not require any fancy studio equipment or lighting set up to take good pictures.
While the regular lights at home can do too, you must not forget the biggest and natural source of light that is the sun. When it comes to lighting, you has to consider different aspects.
The light should always come from above as it comes from the sun and never from below as it could create an image straight out of a horror movie. You can easily photograph your doll in your garage or living room or any place you feel has the best lighting in your surroundings.
It's important to remember that a reborn doll is a baby doll, so a soft image would do wonders. This is why good rule of thumb for soft highlights and shadows and is placing the doll in such a way that the light flows from the top of baby's head on down their body.
Creating the Perfect Scene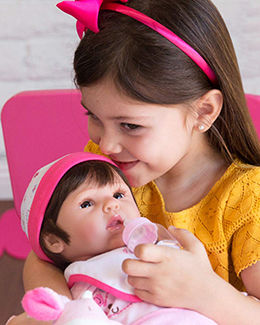 It is of great importantance to select an appropriate background for your reborn doll picture. Some people like to go with the bed or nursery that they already have as the background, but you could opt for a photo backdrop as well as they are easily available at very reasonable rates.
You can then set it up and place your reborn doll in front of it. You can also accessorize your reborn with stuff like a feeding bottle or toys such as a teddy bear. This will not only give a decorative touch to the picture but would also make the doll look more realistic, adding to its value.
Positioning of the Reborn Doll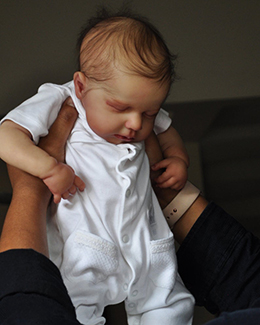 You can experiment with the positioning of your reborn doll but you can never go wrong with a classic nursed shot. It could either be the doll being wrapped up in a blanket or with someone holding it to add to the life-like effect.
You can also try making your doll sit upright, lie on its tummy, lie on its back. All these different postures would display all the functions and possible positions it can be kept in which would attract the consumer.
Adding people to the shot can help in creating memories and it could be great from the marketing point of view as well as it would look very realistic.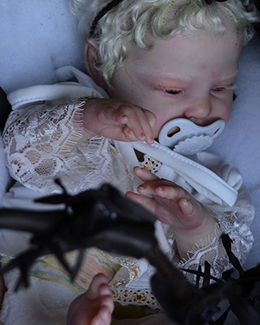 Finding the right angle could prove to be quite a challenge. For this purpose, you could try to place your doll in different positions or try to place yourself in different positions as you photograph.
You can get natural shots of your baby doll by getting down to its level. That makes the shot more intimate and getting at the same level as the baby doll makes the shot seem like you have entered its world rather than looking at it from above.
Another way to get more intimate shots is taking close ups. You can either move closer to the doll or use a longer focal length. We would recommend you using a longer focal length because if you move too close to it, it might not give the same desired results.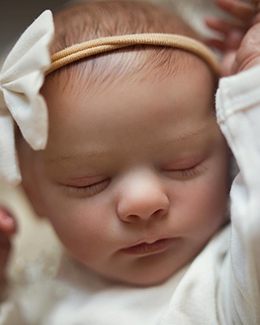 After you've taken plenty of reborn doll photos, you may want to add some finishing touches on them. Using a photo editing program to achieve that is actually pretty easy. For those who want to edit pictures simply on a smartphone, Snapseed is a perfect editing program to download. And for those who'd like to retouch photos utilizing editing programs on PC, Paint.Net and Photoshop are good choices. You will find them easy to use for basic editing.