There are a few cases in life when something that looks completely real isn't real at all. Very few artist/creators are able to master and exhibit human-like effects in their creations. Reborn toddler dolls are artist creations where the dolls take up the form of a human baby to near perfection. These dolls are great as new best friends for your toddlers as well as for practising how to be a parent. However, there are so many doll options in this category, and not all dolls are created equal. Here is a list of the best reborn toddlers you should buy.
1. ``Mason's First Step`` Interactive Walking Baby Doll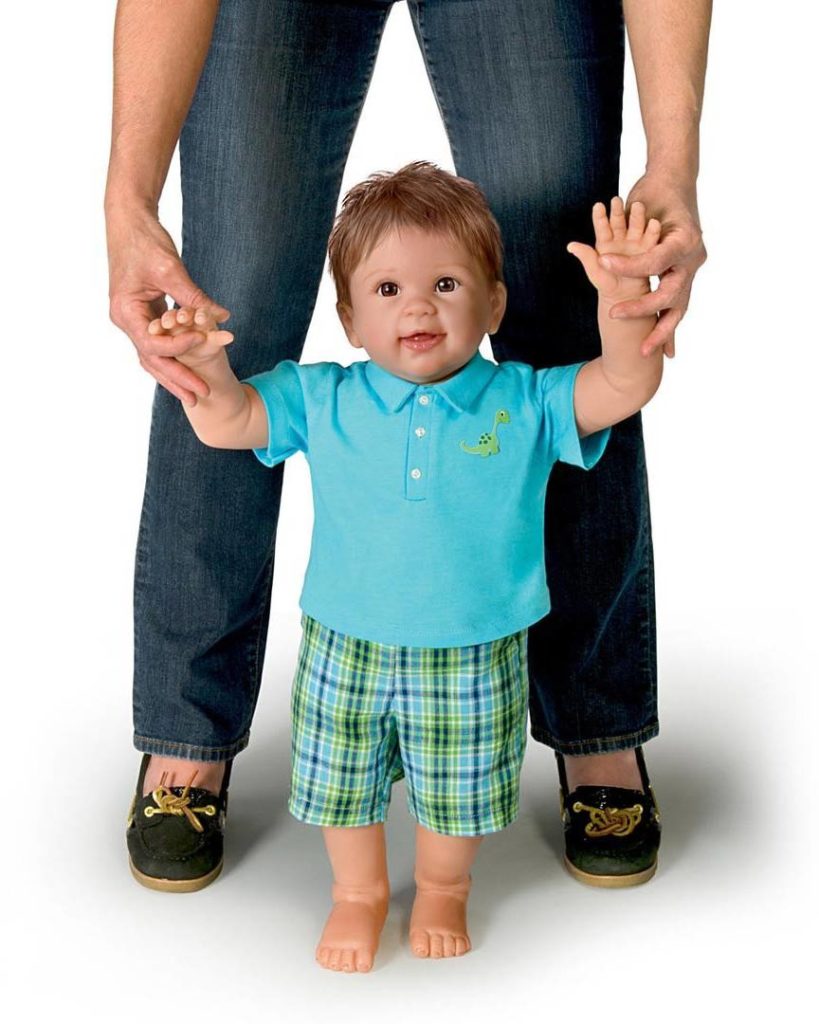 Brand: Ashton Drake
Artist: Linda Murray
Size: 26″
Material: RealTouch Vinyl
Eye Color: Brown
Hair Color: Brown
Ever wanted to teach your baby how to walk? Then you can get Baby Mason, a touch-activated baby doll. It is the size of a baby boy of about 11 months old, and learning to walk for the first time. He takes his very first steps when you hold his little hands and walk with him. Every step he takes is precious, a beautiful memory to cherish.
Mason Baby Doll was created by the Master Doll Artist Linda Murray. The doll was hand-painted to highlight details of his irresistible personality. It possesses a blushing smile, wispy soft brown hair, and beautiful fingernails and toenails. Its brown eyes are open wide to take in showing genuine interest in the world around it. While the endearing look of anticipation on his face says shows his excitement to walk with you.
The doll comes already dressed in playtime clothes. Mason is spotted wearing a bright polo shirt, plaid short to match its cute dinosaur accent. Also, there is a Certificate of Authenticity to ascertain its originality. However, the required 4 "AA" batteries are not included.
Mason baby doll is a fine adult collectible, not intended for children under 14.
2. Realistic Baby Doll - ToddlerTime Daisy Delight
She will have you smiling with delight in no time! Adora ToddlerTime Doll Daisy Delight has auburn-red hair tied up in red and white polka-dot bows with sweet daisy adornments that truly brings out the vibrancy of her pretty blue eyes. Ready for a morning of play at the park in her navy and white gingham dress adorned with multi-colored daisy appliqués and red and white polka-dot bows, she will surely be a playground sensation.
She is 20" from head to toe, made of baby powder scented high quality vinyl with movable head, and 3/4 vinyl arms and legs. She has a weighted cloth body and comes complete with a traditional diaper and is ready for plenty of fun and nurturing play time! Ages 6 and up.
3. So Truly Real Collectors Edition Child Doll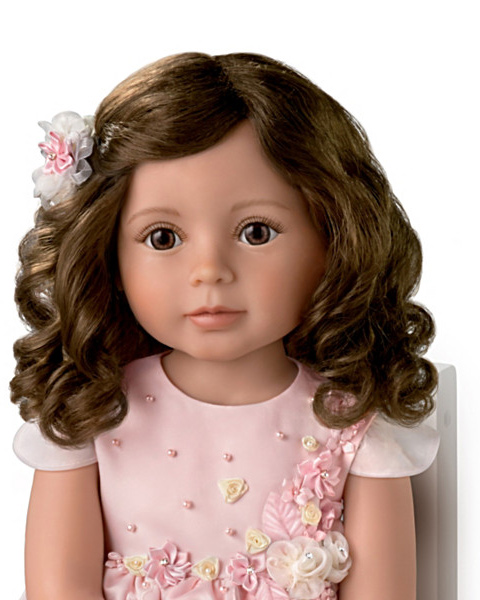 Brand: Ashton Drake
Size: 28″
Material: RealTouch Vinyl
Eye Color: Brown
Hair Color: Brown
She comes ready to party in the prettiest dress. So Truly Real Collectors Edition Child Doll loves to be the centre of attraction. It is evident in her gorgeous dress. She's a vision of loveliness with her cascading brown wavy hair, softly rounded face with just the hint of blush and sparkling brown eyes. She's got your attention and will definitely keep it.
This lovely Toddler Doll is picture-perfect in her realistic hand-painted features. She was handcrafted from soft RealTouch vinyl with a weighted cloth body. Her arms are poseable so she can daintily place her hands in her lap, and her legs are bent at an angle so you can sit her in a chair.
She arrives dressed in a custom-designed satin and organza dress adorned with rosettes, lace, rhinestones and faux pearls, tiny cream tights. Also, she is wearing Mary Jane-inspired shoes adorned with satin bows and rhinestones, and a faux pearl charm bracelet that gives her this classy look. She also comes with a Certificate of Authenticity.
This Baby Doll is a fine adult collectible, not intended for children under 14.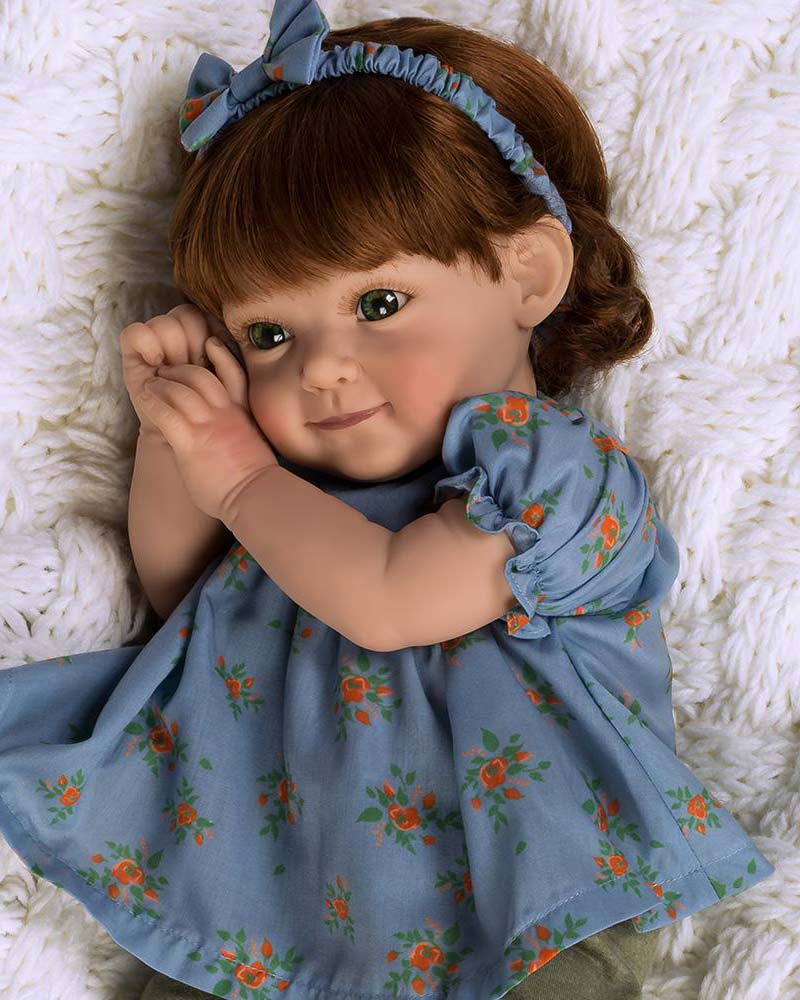 Brand: Paradise Galleries
Artist: Lauren Faith Jaimes
Size: 19″
Material: GentleTouch™ Vinyl
Eye Color: Green/Hazel
Hair Color: Auburn
Pumpkin Spice is made of sugar, spice, and everything nice! She has a fall-themed outfit that is ready for apple picking, sipping pumpkin spice lattes, and hay rides. Her adorable auburn hair is perfectly matched to her ensemble and you'll "fall" in love with her. Her pumpkin beanie will keep her warm the entire season and her snuggly black cat keeps her company.
Her outfit is perfect for fall weather. She has deliciously soft suede booties and olive green jersey leggings to keep her warm. Her dress is patterned with delicate orange blossoms that match the ricrac detail on her collar. She has a headband to match her dress, but also comes with a pumpkin beanie that is cute as can be!
Pumpkin Spice is masterfully sculpted with true-to-life detail by renowned artist and doll sculptor Lauren Faith Jaimes, who specializes in creating these reborn toddlers. Her lifelike features are handcrafted in GentleTouch™ vinyl and a weighted soft cloth body makes her feel amazingly real. She comes with all the accessories shown above, a numbered Certificate of Authenticity, and an exquisite collector's box.
5. Waltraud Hanl ``A Sister's Doll`` Poseable Doll Set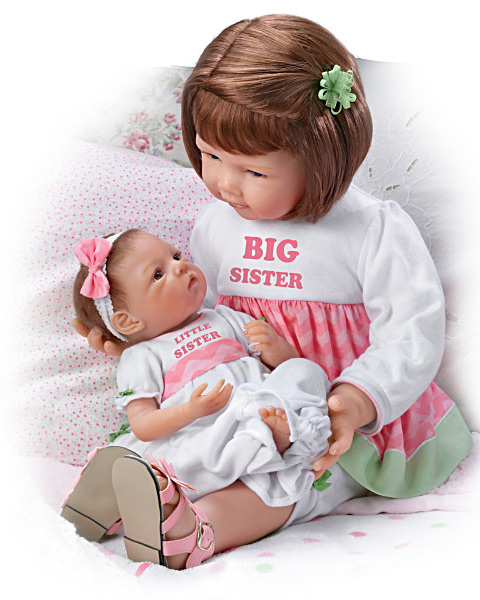 Brand: Ashton Drake
Artist: Waltraud Hanl
Size: 24″ and 13″
Material: RealTouch Vinyl
Eye Color: Brown
Hair Color: Brown
Big sister loves playing the mother role to her little sister, a healthy bond for both sisters. They both wear the same outfits, pink-and-white dress, emblazoned with the words "Big Sister" and "Little Sister." There are small green ribbons around the baby's sleeve that compliment the hair bow and white leggings. Meet the two adorable sisters, A Sister's Love Child And Baby Doll Set by Master Doll Artist Waltraud Hanl. A So Truly Real Signature Edition exclusively from Ashton-Drake, handcrafted in RealTouch vinyl to be as soft and lifelike as possible.
Want to capture a sister's love to her kid sister? Then this is the doll for you. They even have the soft scent of baby powder. The sisters share the same pretty facial features, from cute button noses to the shape of their bright sparkling eyes.
Your "A Sister's Love baby doll" set arrives with Signature Edition doll stamps and a costume tag to ensure their authenticity. Not intended for children under 14.
6. AngelBaby Doll Standing For Kids Wear Model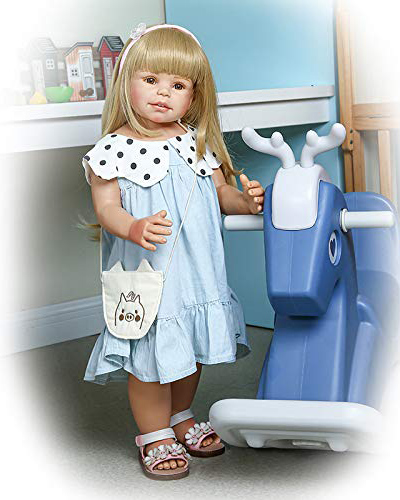 Size: 28″
Material: Hard Vinyl
Eyes: Brown
Hair Color: Blonde
You'll find a friend when you get AngelBaby Doll, all she needs from you is love. This Reborn Toddler doll has learnt to stand by herself. There are seven joints in the doll which makes the doll totally poseable. Its head and limbs can be move 360°freely and she is waterproof which makes her a good shower companion.
Her clothes can be changed. She can wear clothes belonging to a one-year-old child. Her features include a synthetic wig hair that can withstand high temperature. The hair can either be straightened or permed. Either way, it is crucial to keep the hair temperature within the 1200 limits.
She'll arrive in a light blue dress with a polka dot collar and a Birth certificate. Intended for ages 3 and above.