Ever seen a baby that made you do a double-take? Well that wasn't any ordinary baby, that was a very life like baby doll that made you think it was an actual child. This is the magic of reborn dolls.
Although these dolls have been around for quite some time, they have become all the rage recently. These realistic baby dolls don't just look impeccably real, they can be handled like a real child as well. People who use these dolls care for them as they would for a real child.
While it is sometimes used as a play doll for kids it is also used by adults to prepare themselves for parenthood by getting the required experience from these very realistic dolls. A reborn doll is not an actual child, but it still needs to be taken care of with a proper night routine.
This is why I have decided to share with you, my personal favorite nighttime routine for reborn dolls and hope you can add some of your own personal favorites to it as well, making it your own.
So, without further ado, I present to you the perfect night routine for your reborn doll.
Washing their Hands and Face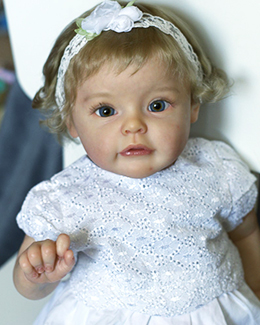 Since we take our dolls everywhere, like to the park, out for a walk or even for grocery shopping sometimes, we need to make sure that they stay neat and clean. And what better way to ensure proper hygiene than starting off with washing their hands and face.
So, I like to take a nice gentle soap that won't be too harsh for them and lather is gently on their face and hands then rinse it off with all the dirt and invisible germs.
Drawing them a Bath
If you feel that your doll is a bit too dirty then draw them a nice warm bath. For this you would have to take their clothes and diaper off and gently place them in a bath tub. I personally love giving mine a bubble bath and you could do it too if you want.
There are many different kinds of bubble bath products available nowadays that are made from all-natural sources. They are great for removing all sort of dirt from a baby doll's body without damaging its beautiful delicate skin.
If bubble baths are not your thing then you can also lather their entire body all nice with soap and shampoo their hair with a pleasant mild shampoo as well. It is important to remember that no matter how mild and gentle the products are, you should make sure to be gentle while applying them as well.
Dressing them Up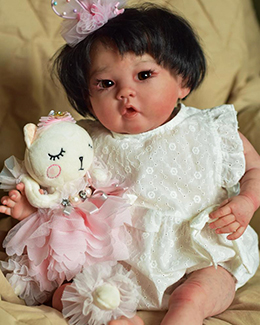 After you have made sure that their body and hair are all clean and well dried, you need to clothe your reborn doll. But first thing's first, you need to put them in a diaper and then move on to the clothing.
Once I have put my reborn doll in a diaper, I then proceed to dress it up. There are many cute clothes available for reborn dolls and I'm sure you must have quite a collection yourself. So, get your doll in a cute baby romper, some comfortable bodysuits or pajamas to be dressed in. You could also get them in some nice warm socks for the night.
Final Touches
Now that you have dressed your beautiful reborn doll, it's time to put some final touches. I usually start off by putting some baby powder to make it smell extra nice with the faint baby smell that we all love.
Brushing the dolls' hair is also very important. Reborn dolls have very beautiful and realistic hair that needs to be taken care of properly. So, I dry my doll's hair properly with a towel and brush it carefully to set it in place.
Feeding the Reborn Doll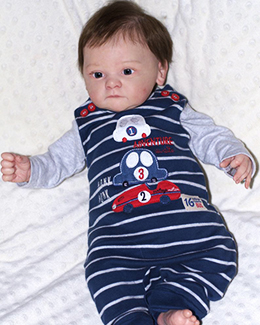 This is one of my personal favorites – once the doll has been cleaned and clothed, it's time to make sure that its fed. So, I take a bottle of warm milk and feed my baby reborn doll.
I also like to feed my doll really late at night as well around 2-3 am as most babies are also fed again around that time since they get hungry and tend to cry during such late hours.
Tucking my Doll in Bed
Once I feel that everything has been taken care of, it is then time to tuck my doll in bed. I make sure the pillow and blanket are place properly to avoid any sort of discomfort.
Reading a Bedtime Story
Who doesn't enjoy a good bedtime story? Once the baby doll is tucked in bed I put a perfect end to the night by bringing out a small bedtime story and read it to my beautiful baby doll.