Reborn dolls look really nice and realistic to the eye. And if you are looking for some lifelike reborn dolls, then this list of best breathing reborn dolls will certainly help you in a lot of ways!
1)Katie by The Ashton Drake Galleries!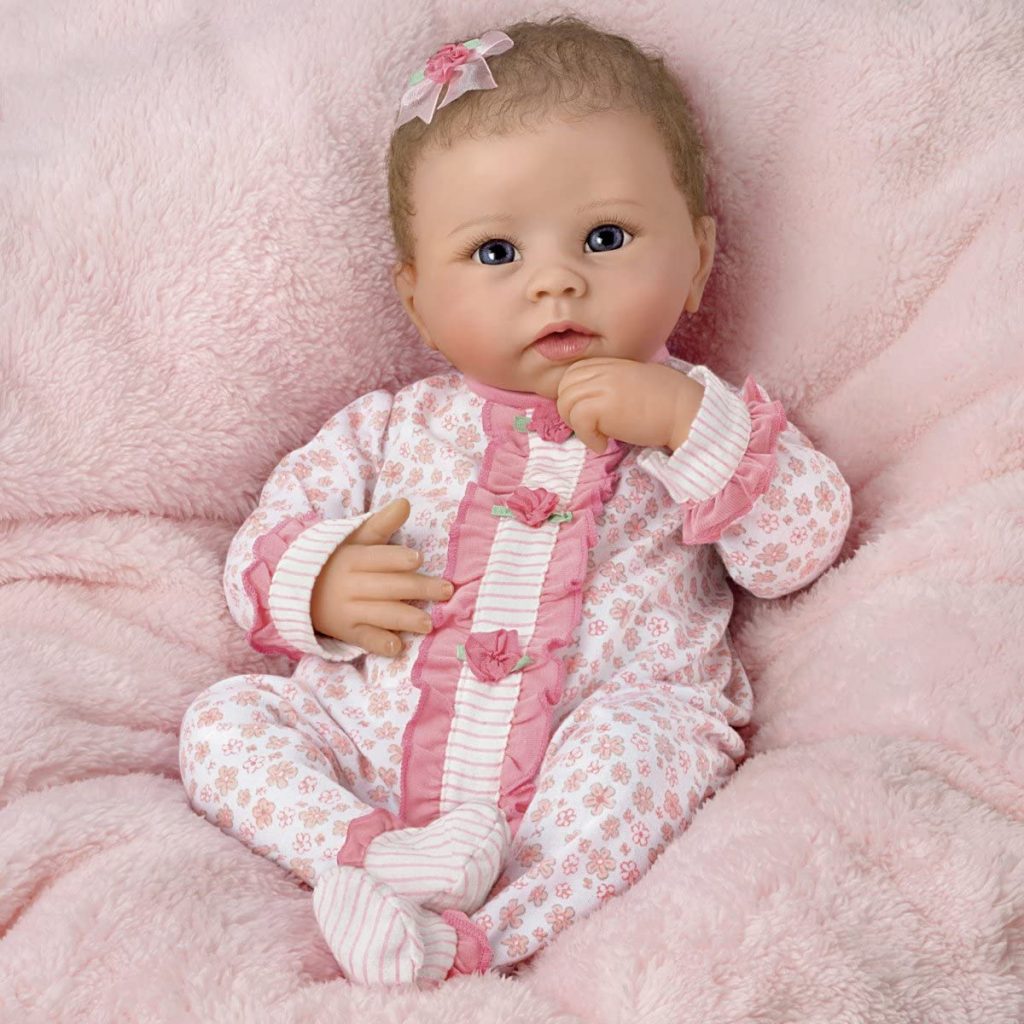 Brands: The Ashton Drake Galleries
Size: 19″
RealTouch® skin
Weighted  body
Hand-rooted hair
Katie is one of the best dolls out there in the market.
She looks cute and her certificate of authenticity makes it quite easy for you as a parent, to buy her for your baby.
Some of the special features of this particular doll are that you can listen to her heartbeats and feel her breaths! Well, that system is run by batteries but then it is amazing.
The doll comes with some hand-crafted details such as its hair and even eyelashes, which look outstanding!
And even other features, are good for your baby. Therefore, you can this doll a shot!
2)Bella Rose Baby Doll, by The Ashton Drake Galleries
This doll is another great product from The Ashton Drake Galleries.
Its form factor, size, weight balance makes it quite easy for your baby to select this over many other dolls and play with it for as long as he wants.
Not just her compelling looks, but the sleeper which comes with the baby, also looks nice. It's for your sure that your baby will cuddle with this doll, a lot!
The materials used for manufacturing this baby doll are premium, and therefore you need not to worry in that department also.
3)Hush Little Baby Breathes, by The Ashton Drake Galleries
Seems like The Ashton Drake Galleries realize that dolls should be like real looking babies, and therefore, their line of lifelike reborn dolls is completely amazing!
Hush Little Baby breathes is another sweet looking doll from them, and even it is packed with all the premium features, which you'd like to see in a doll.
Its RealTouch vinyl skin makes it one of the best lifelike dolls out there. Upon touching its skin, you'd feel as if its real and so would your baby!
Its floral baby gown looks adorable from the outside, and it just gets better with a matching cap. So, even with fashion, you need not to worry.
4)Sadie by The Ashton Drake Galleries
Sadie is also an amazing option out there in the market.
In fact, it is one of the best examples of reborn dolls.
It tooks stunning and her cute, smiling face is also irresistible to look at.
Apart from that the arms and legs of the doll are movable and therefore, click as many pictures as you would want of it, with your baby in different poses!
Her clothes also look wonderful, and even it comes with some useful accessories.