Childhood is a phase where children make a lot of memories, along with their toys. Therefore, every toy has some frisky vibe connected to it, and every vibe is special for your child.
During the early years of a baby, all he/she needs is a nice toy to play with, and create some happy and warm memories. Well, the purpose gets solved quite easily with dolls such as Paradise Galleries Cuddle Bear Bella, which is one of the best reborn dolls available out there. The doll can happen to be one of the best presents for your baby, till date!
What's in the box?
Reborn Doll *1
Cute Outfit*1
Gift Box*1
You may also want to know
Doll Gender: Girl Doll
Eye Color: Blue
Hair Color: Brown
Size: 21 Inches (Weight: 3.41 Pounds)
Material: Gentle Touch Vinyl
Rating: 4.4 out of 5
Ages 3 and Up
Along with a beautiful gift box, the cute Cuddle Bear Bella and her five-piece outfit come inside the box. The baby girl doll looks nice, with blue eyes and brown hair! She is 21 inches, and therefore, a baby always feels as if she's a living companion due to its exactly similar size, when compared to a baby. She weighs just 3.41 pounds, which is very light and handy for a tiny-toddler!
The doll lives up to all the expectations, not just by its eye-catching appearance, but also the warm outfit she wears. The clothes of the doll feel very soothing under the human skin, and that makes her further attractive for the baby.
The doll is made for children of the age 3 and above.
The baby girl doll, is definitely a pleasure for your eyes.
The artist who made her would have been really considerate in designing this amazing, adorable Cuddle Bear Bella doll. She comes in her attractive pink feather trimmed hooded fleece sweater, which has attached mittens to keep the doll warm in cold!
Her outfit is further embroidered with hearts on both the pockets, and the whole outfit is made warm and cosy, in order to provide a nice output! Even the baby would fall in love with her. The pretty pink theme also stretches out to her sweatpants, knit beanie and pink ribbon!
The doll has very appealing blue eyes, which are just like an ocean! They are inviting and surely, every baby would love to fall inside it and swim to its edge. Further, the blue colour provides the much-needed contrast to the brown hair of Cuddle Bear Bella!
The hand applied details such as the eyelashes, nails, etc., provide the doll a touch of finesse and that further adds on to her beauty.
Cuddle Bear Bella doll comes in a soft and cosy clothed body and all her accessories which we discussed above.
She also comes with a certificate of safety and authenticity.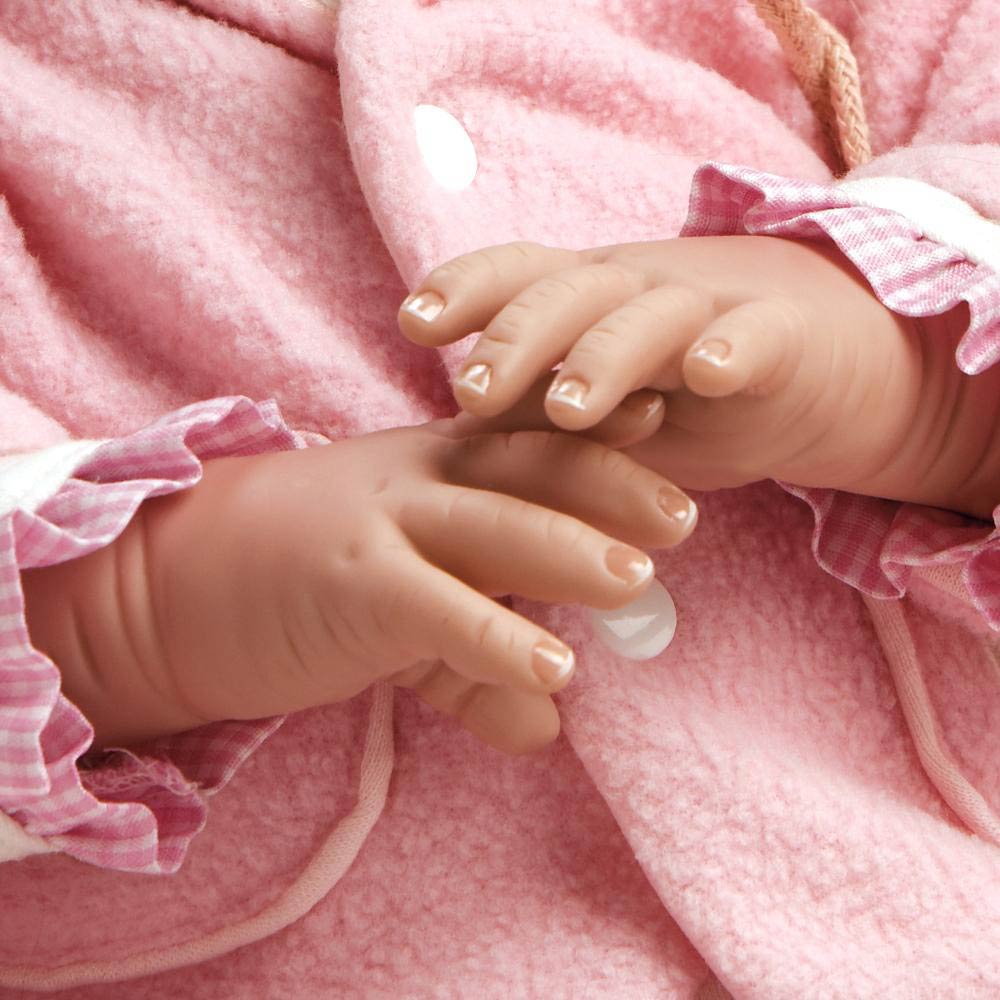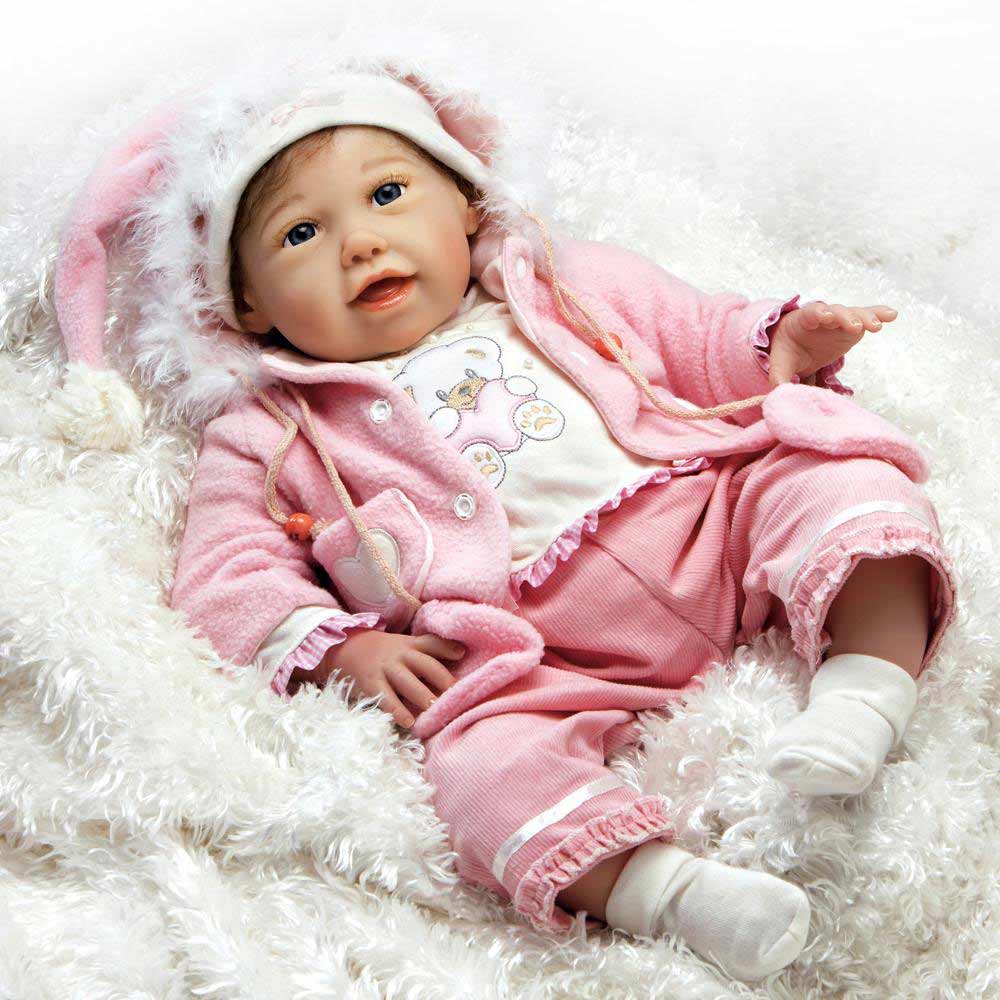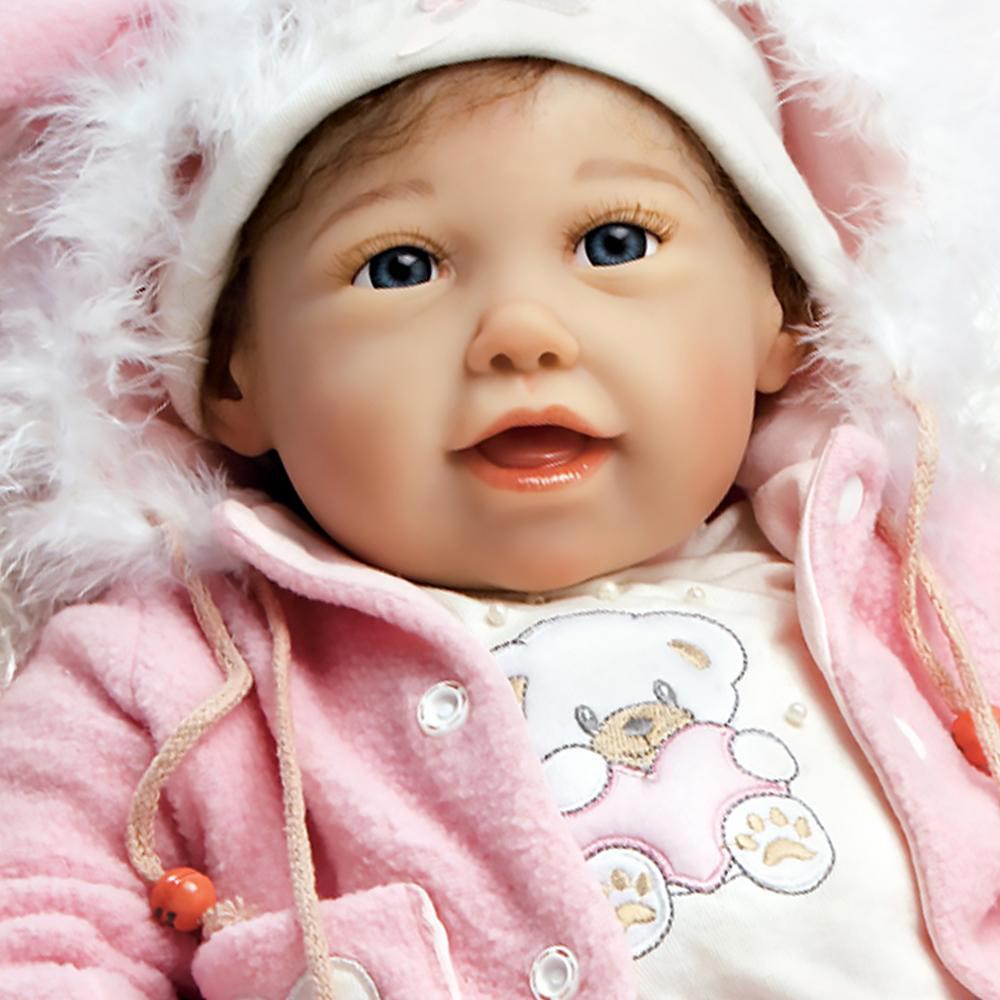 Cuddle Bear Bella is made up with the best quality of Gentle Touch Vinyl, which makes the doll a safe product for the baby and also acts as an add-on for improving the overall quality as well as look of the baby doll.
The ideal shape and size for your baby!
The size of this doll happens to fall in the bracket of an ideal size, which is 21 inches. And she doesn't even weigh too much. Just 3.41 pounds, which will put you at ease, as your baby will be able to play with the doll himself/herself.
When it comes to the industry of doll manufacturing, Paradise Galleries happen to be at the top and they have been doing a great job, since the beginning. Their seamless experience is not just limited to words, but it is also lucid in their work.
Once you a buy doll, manufactured by them, you will experience it yourself! Therefore, do not hesitate in buying Cuddle Bear Bella!
Pros
She's poseable, and you can even click pictures of it with your baby.
The clothing is removable.
The material used in making this doll, is safe.
The handcrafted details, make her realistic and attractive.
Cons
She can't close her eyes.