This baby powder scented doll looks just as exciting as he is to hold and play with. He is sized at 20 inches, which is the perfect size to offer both realism and fun. Children like the feeling of caring for their own baby, and he looks the part of a little one that you want to just pick up and care for.
What's in the box?
Reborn Doll *1
Sleeper*1
Cap*1
Bib*1
You may also want to know
Doll Gender: Boy Doll
Eye Color: Blue
Hair Color: Red
Size: 20 Inches ( Weight: 4 Pounds)
Material: High Quality Vinyl
Rating: 4.4 out of 5
Ages 6 and up
Adora Woof Woof! ToddlerTime Doll WOOF! is a cuddle ready cutie with a friendly appliquéd dog that looks so real it almost jumps off the bib. This little one likes everything about his all-in-one comfy jersey knit puppy print PJ's, but the blue bib trimmed in brown with the happy puppy on the front is the most fun of all.
WOOF! is a lifelike baby doll that is 20" from head to toe, made of baby powder scented high quality vinyl. He has a movable head, lifelike red hair, big blue eyes, and ¾ vinyl arms and legs, making him seem alive. This reborn baby doll has a weighted cloth body and comes complete with a traditional diaper for realistic play to develop social skills while engaging in nurturing, pretend play. He is in his removable cozy baby blue sleeper and matching night cap scattered with puppies.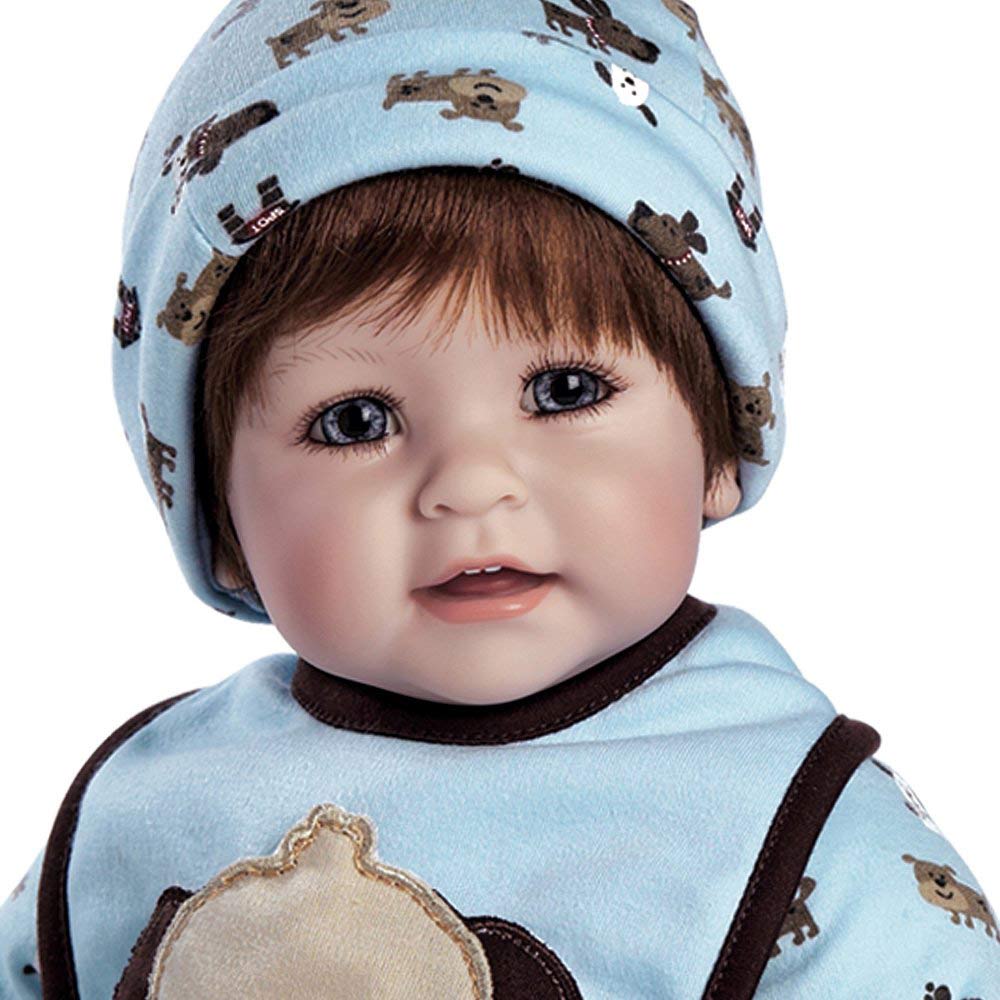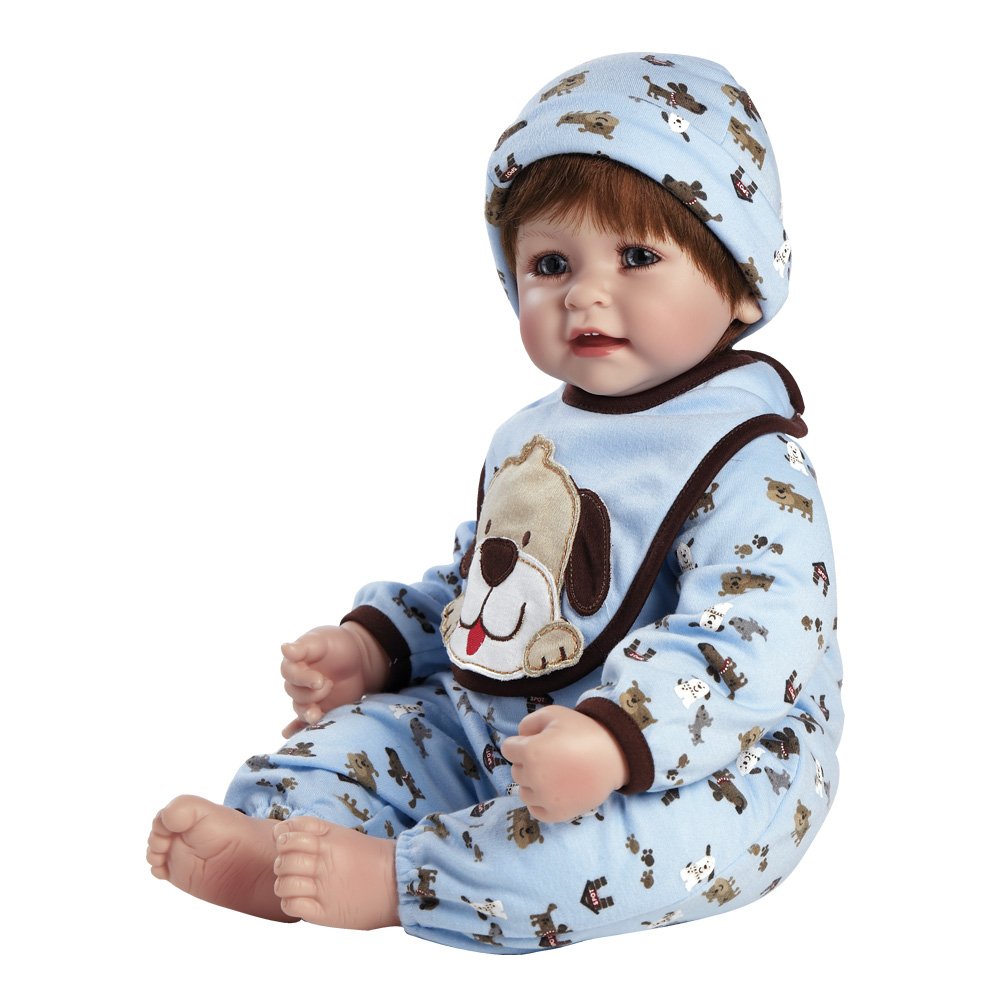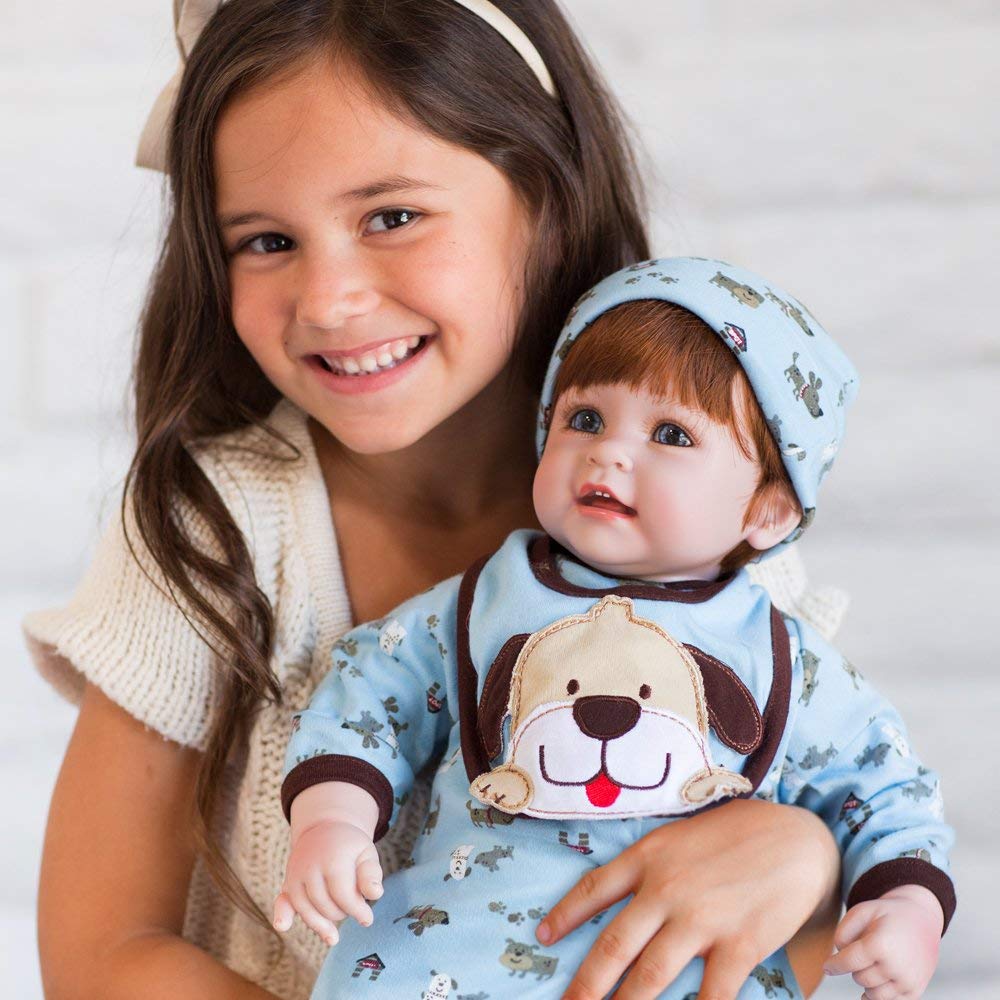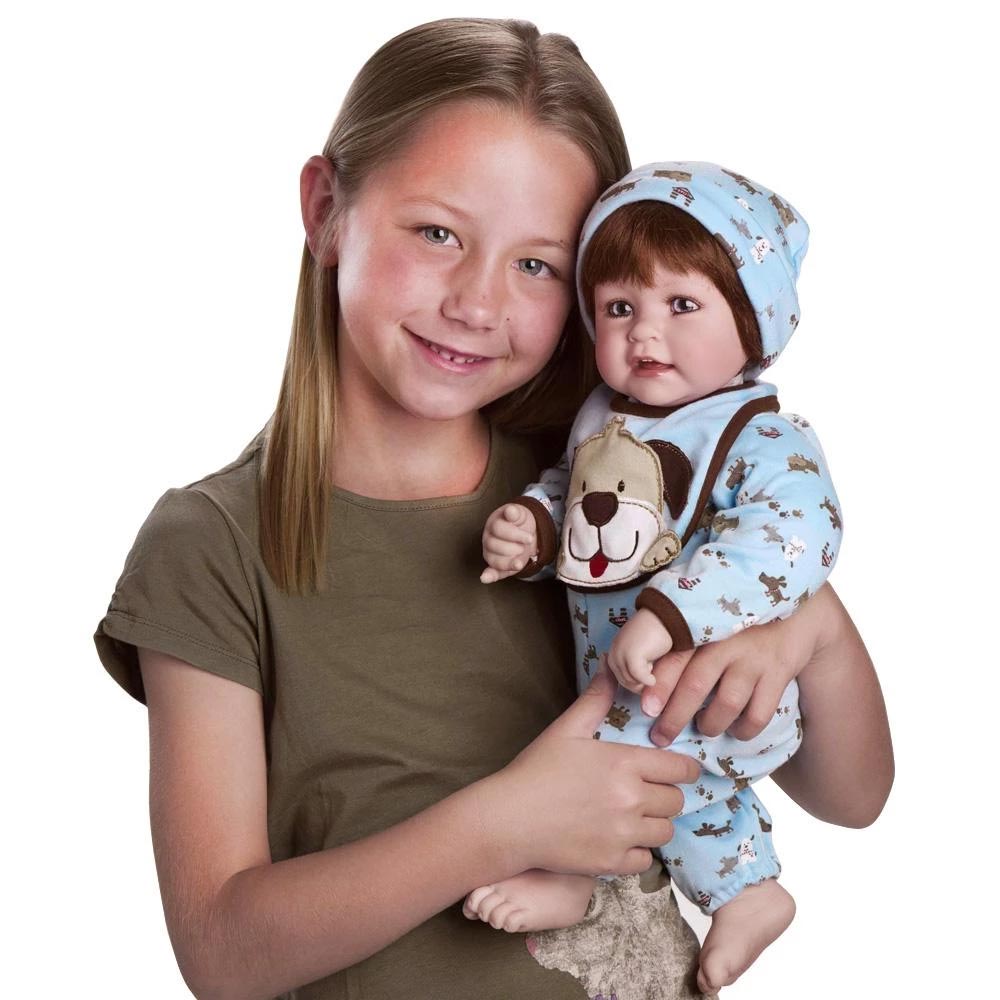 Beautiful Red Hair & Blue Eyes
The Adora WOOF! baby doll toy has deep red banged, boy-cut hair that comes complete with a sleeper cap. His beautiful red hair complements his big crystal, blue colored eyes, making him look beautiful, realistic and cuddle-ready.
Lifelike, Hand Crafted Features
This baby doll is hand crafted with a hand-painted face, hand applied eyelashes and premium quality fashions that are hand-sewn. The end result is a beautiful and lifelike doll toy, ready for plenty of fun and nurturing play time.
WOOF! is 20" from head to toe, the perfect size for tiny hands to carry him everywhere you go! He is a baby doll toy made of baby powder scented, high quality vinyl and has moveable head, arms and legs.
Weighted Body for Real Feel
This baby doll toy doesn't just look lifelike, he feels lifelike, too, thanks to his weighted body. He also comes complete with a diaper that helps develop social skills while engaging in nurturing playtime.
Pros
Unisex doll
Movable head
Manageable hair as a result of its length
Weighted to feel just like a real baby
Realistic and adorable face
Fresh baby powder scent
Removable clothing
Cons
Cannot close eyes
Hat is stitched to the scalp
A bit on the pricey side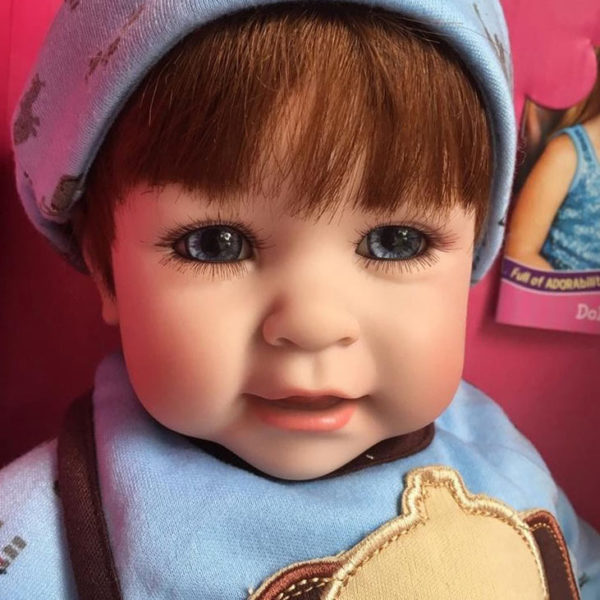 Soft and sweet, Woof! is just like your little one. He is a wonderful first friend. With red hair, blue eyes and baby powder scent, the huggable doll in his blue doggy pajama outfit features a weighted body to feel like a real baby. This reborn baby doll is perfect for cuddling to sleep or for being the center piece of any pajama or slumber party.