Reborn baby dolls are similar to real babies because of their realistic looks. Reborn artists transform some special materials into an infant doll with facial features and appearance which is so close to a real human baby. Their excellent craftsmanship and long hours of hard work are reasons for the high price of reborn baby dolls. Some people who would like to adopt reborns may stop by the expensive price. However, if you go to find cheap reborn baby dolls, you will find one that makes you feel satisfied. In order to ease your search, we spend long time on amazon to prepare a simple guide with the top 5 cheap reborn baby dolls under $50.
If you are interested in more information about reborn toddlers, then I recommend you take a look at this which contains Best Reborn Toddlers for Sale under $300.
1.JC Toys La Newborn All-Vinyl-Anatomically Correct Real Girl 15`` Baby Doll in Pink Knit Outfit and Accessories, Designed by Berenguer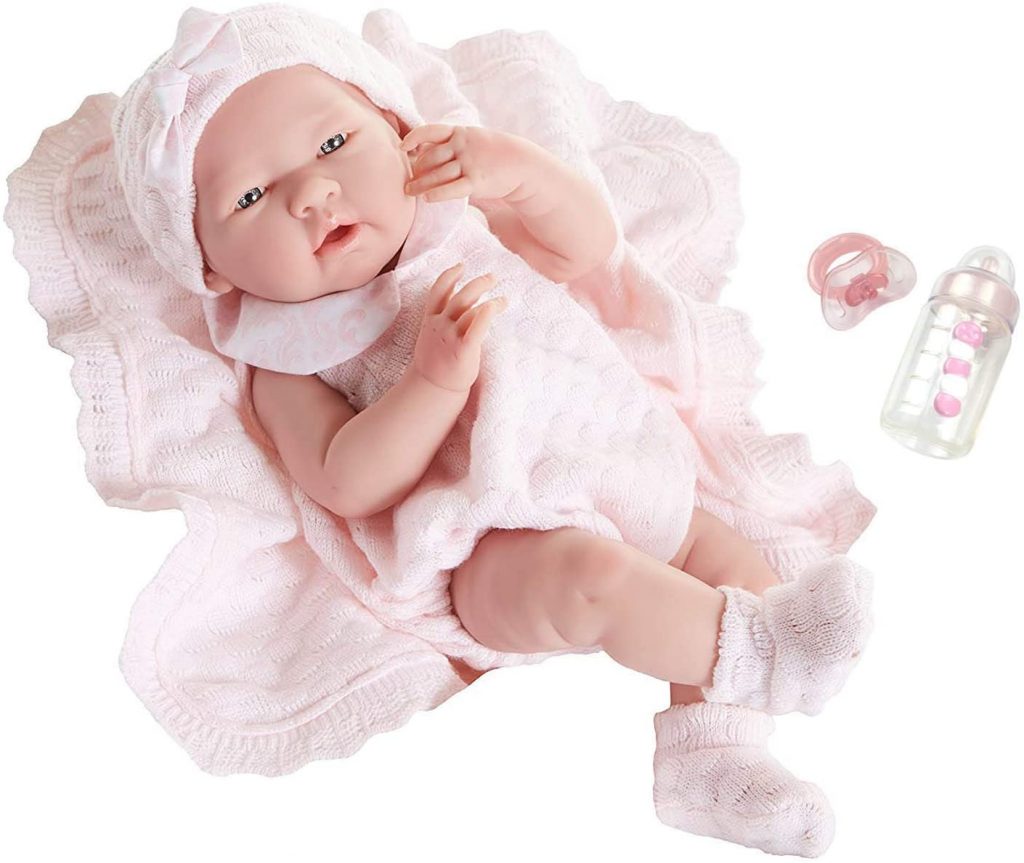 Brand: JC Toys Berenguer
Size: 15″
Material: All Vinyl
Eye Color: Blue
Color: Soft Pink
So sweet! She is a 15" all-vinyl Anatomically Correct "Real Girl" with moveable arms, legs and head. Her eyes are blue while she is in soft pink. She is made completely out of vinyl for easy care. This sweet little girl is all dolled up in a cute pink knit romper, matching chic cloche hat and booties. This amazing set also includes a matching knit blanket, so your child can swaddle her to keep her cozy and safe.
The La Newborn collection of baby dolls were hand-designed in Spain by the Designed by Berenguer team. This is an award-winning group of the world's best doll designers. Thus you don't have to worry about its high quality. The manufacturer recommended age is from 2 years to 15 years.
2.NPKDOLLS Reborn Baby Doll Soft Silicone Vinyl Baby Boy 22inch 55cm Mouth Cute boy Wearing Toy Blue Dog Cute Doll Gift Set for Ages 3+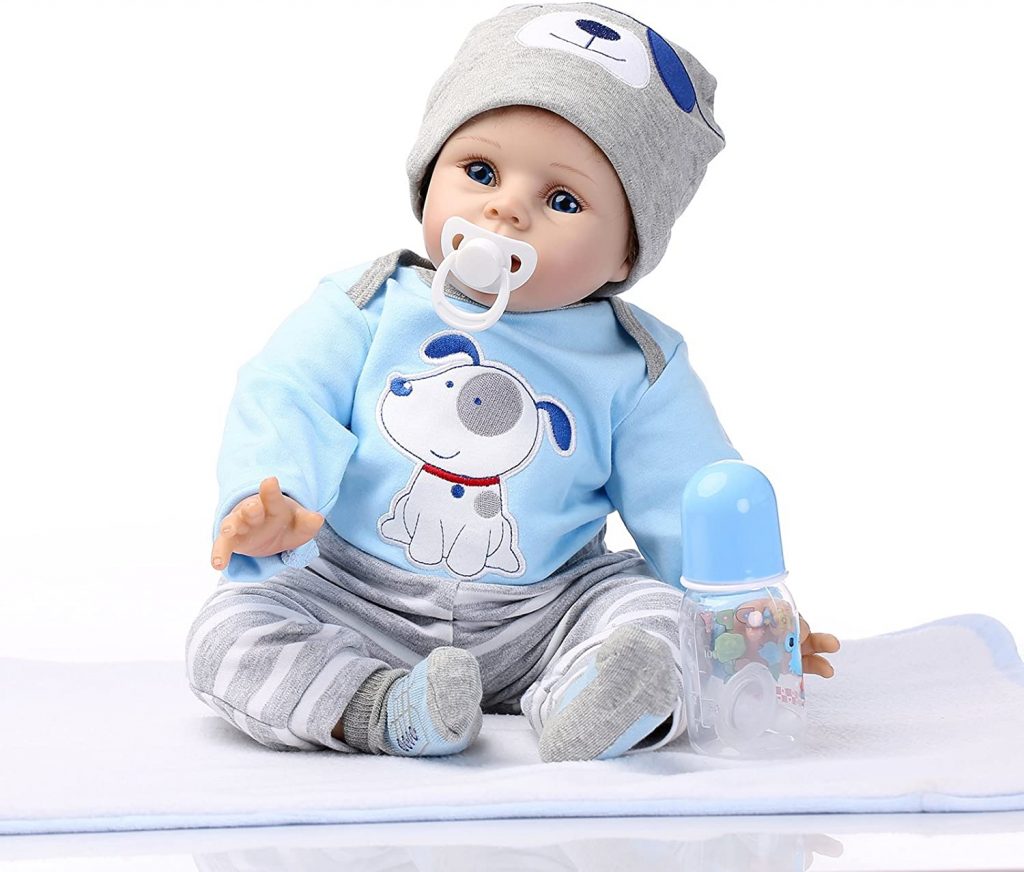 Manufacturer: NPKDOLLS
Size: 22″
Material: Silicone vinyl head, 3/4 silicone vinyl limbs with stuffed PP cotton body
Eyes:High Quality Acrylic
Hair: Handmade micro rooted mohair
This is a very cute and lifelike reborn doll. He is made of high quality soft silicone. It is so soft and safe because of the non-toxic and pure environmentally friendly materials. But you have to pay attention that he cannot enter the water to make a shower. Because his head, arms and legs are soft silicone, but his body is cloth filled with cotton. This reborn can pose a lot like limbing, sitting and lying. Thus you can take a lot of photos for him when you are playing together. The cons are that he can not stand and blink. He can be a friend of your baby and the one of your family. For age 3 up.
3.iCradle 26cm 10inch Mini Lovely Cute Realistic Lifelike Full Silicone Vinyl Body Sleeping Reborn Baby Doll Girl for Kids Birthday Playmate Growth Partner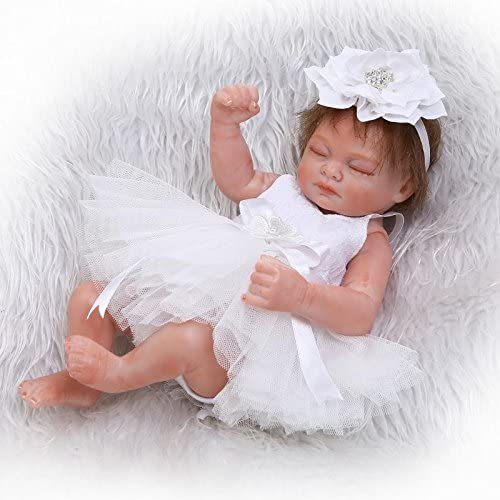 Manufacturer: Valson
Size: 10″
Material: Full vinyl
Eyes: Closed
Hair: Hand rooted mohair
This reborn baby girl has an adorable face. She is sleeping, just like a real bay. I believe you won't let her down when you hold her. This baby is 100% handmade craftwork with hand painting. She was sculpted in baby soft vinyl and has hand painted details, such as hand applied eyelashes and hand rooted mohair. But because she is a mini doll, she only has a little hair. Her double-fold eyelids very beautiful. What make you cannot help but want to kiss is that her warm and humid lip, which looks so natural and soft. Her nails are completely hand-drawn and translucent, with red nail bed, like a half of moon shape. Of course you can move her arms and legs up and down. However, you have to pay attention that her arms and leg cannot bend. She can sit and lie down. It is no doubt that the sleeping reborn baby doll girl is a perfect gift for kids with the age of 3 and up as a playmate and growth partner.
4.Aori Lifelike Reborn Baby Doll 22 Inch Real Looking Weighted Reborn Doll with Pink Clothes and Hippo Toy Accessories Best Birthday Set for Girls Age 3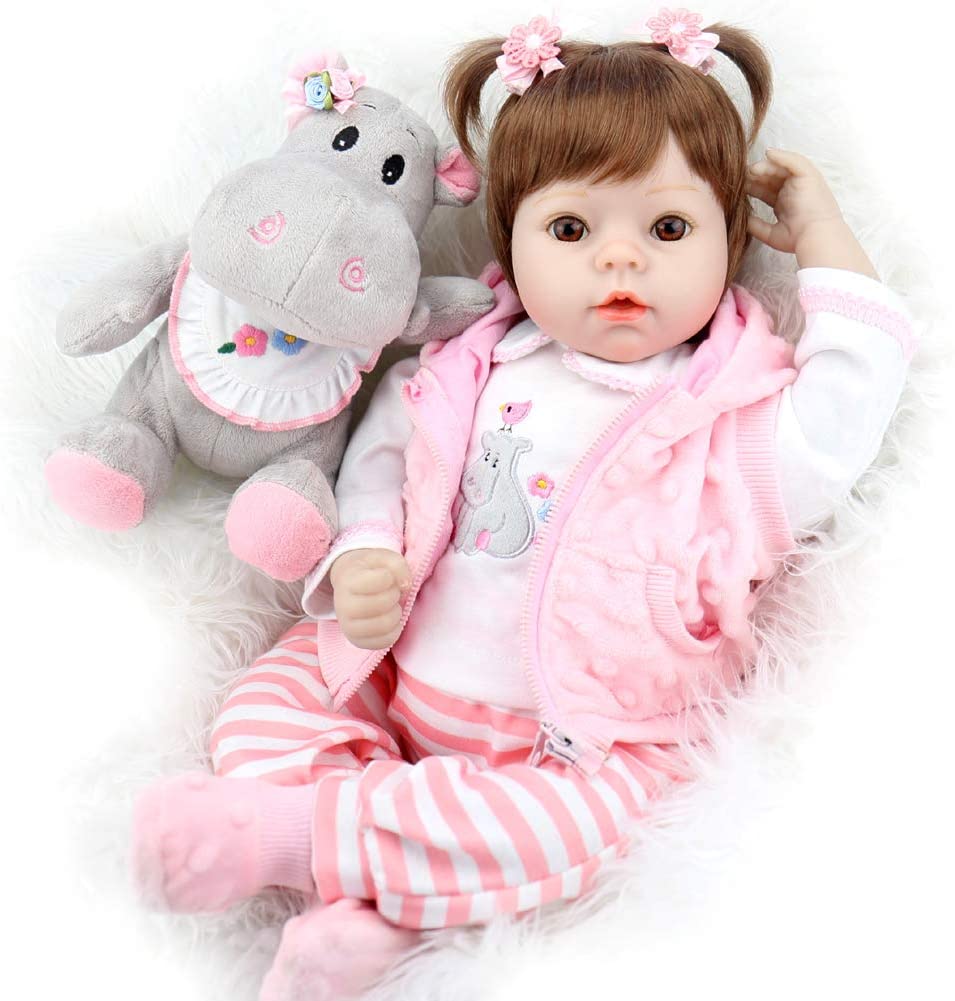 Manufacturer: Aori
Size: 22″
Material: Soft vinyl head and 3/4 limbs, stuffed PP cotton and glass beads body
Eyes Color: Brown
Hair: Brown wig hair
Aori reborn dolls are so realistic. You can see her cute face with vivid facial expression. There is light blushing on her cheek, hand s and feet. She has hand set eyes and hand applied eyelashes. These details make Aori reborns more lifelike. Oh, her lip, fingernails and toenails are also hand painted. The baby doll is a great choice for kids' birthday present, Christmas gift, preschool and home activity, role playing and nurturing play.The reborn doll is also a good choice for grandma's accompany and collectors collection.
5.ENA Reborn Baby Doll Realistic Silicone Vinyl Pink Mouse Baby 16 inch Weighted Soft Body Lifelike Doll Gift Set for Ages 3+(Pink Mouse)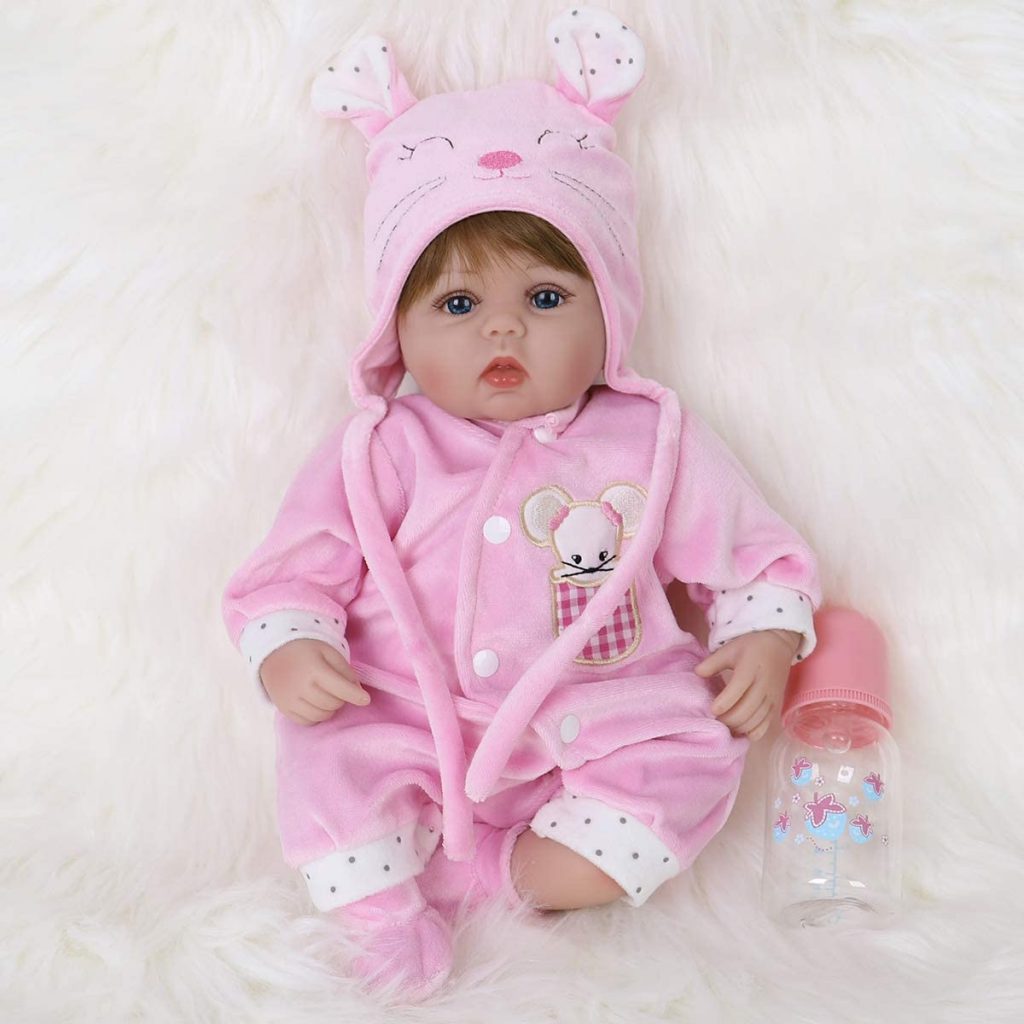 Manufacturer: Jurong LongXiang Arts & Crafts co. LTD.
Size: 15″-17″
Material: 15% silicone and 85% vinyl
Eyes: Big blue eyes
Hair: Glued soft artificial wig
This is a cute pink mouse baby doll. She is an amazingly lifelike baby doll, from her bright eyes and little nose to her tiny fingers and toes. And she has big blue charming eyes, handcrafted fluffy artificial hair which is very realistic. It can be shaped, combed, washed even cut for a better style. Remember that her hair was firmly glued, so please carefully when combing for her. Besides, the reborn baby girl was 100% handcrafted. She weight to feel real in your arms! It's no wonder that she will bring you much happiness and be your best friend!